Under 13's Football
On Tuesday 21st June the Under 13 football team travelled to Croma park to compete in the Broken Bay Football Gala Day.
The first round saw the boys kick off with a challenging match against St Augustine's Catholic College and we were narrowly beaten 1-0 by a long range strike that our keeper had very little chance of saving. The second match of the day saw us take on Mater Maria Catholic College and we came out ahead with a nail biting 2-1 win with goals from Harry Thorpe and Jacob Hall and special thanks to our shot stopper in goals Max Purkis. Round three saw us dominate over local Central Coast school St Brigid's Catholic College 8-0 with a flurry of goals from Harry Thorpe, Vin Romano, Jacob Hall, Fletcher Bush, Elio Cunico and Beau Loui.
Coming second in our pool saw us proceed to the semi-final round when we took on another Central Coast school St Peter's Catholic College where we came away with a 2-0 win thanks to another great  performance from the whole team.
Progressing through to the grand final we met our arch rivals form round one St Augustine's. The boys played valiantly and left nothing on the park hitting the post twice and in a goal mouth scramble St Augustine's scored the only goal of the match. Our boys did themselves and our College proud as they came away with silver medals for the day, and we look forward to watching out for these young guns on the football field in the future.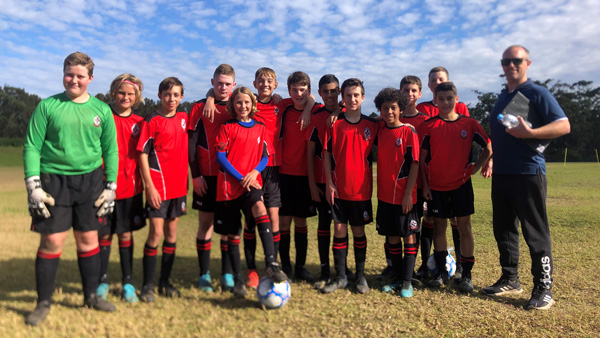 Return to Newsletter