Student Welfare
"If students are feeling well, if they are functioning well, if they are coping well with the stresses that are around them; they're better able to take on new information and obviously achieve well in school."
Professor Donna Cross is Foundation Professor of Child and Adolescent Health
at the Child Health Promotion Research Centre, University of Western Australia.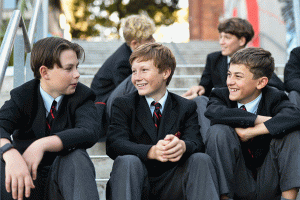 The following list is drawn from the experiences of many teenagers and young adults who have worked with counsellors in a variety of situations – schools, TAFE colleges, community health centres, telephone help lines and internet youth counselling services. It covers some of the worries that young people have from time to time.
Behaviour at school
Behaviour at home
Making and keeping friends; friendship groups
Boy/girl relationships
Family relationships (communication, trust, separation, divorce)
Progress at school; changing schools, leaving school
Loss and bereavement
Inappropriate use of drugs, including tobacco and alcohol
Physical changes of puberty
Emotional issues (anger, anxiety, loneliness, depression)
If these are some of the things that worry you from time to time, or if you have other concerns, it would be a good idea to talk them over on a one-to-one basis with a trusted adult. That person could be a parent, relative, sports coach, teacher or counsellor. The College counsellors are available to you during school hours and may be able to help you work through your worries before they become major problems.
Support Information