Home Rooms
Home Rooms are arranged with a small number of students from each year group. Each Home Room has approximately 24 students.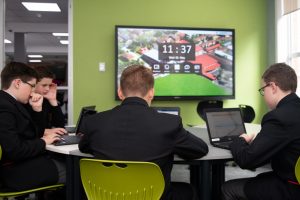 The interaction of various ages is seen as very important. Senior students are given the opportunity to care for and help younger students; they in turn, get to know older students in a friendly and supportive atmosphere. The inter-relationship helps promote a positive spirit throughout the College.
Students, in most cases, will remain in the same Home Room throughout their time at St Edward's College. Home Rooms are scheduled every morning at the beginning of the school day. During these classes, important messages and notices are read out so all students are kept well informed about various issues arising on a day to day basis.
During these Home Room classes the attendance roll is marked by the Home Room Teacher. The Home Room Teacher will also follow-up all unexplained absences