Principal's Message
Edmund Rice Education Australia Touchstones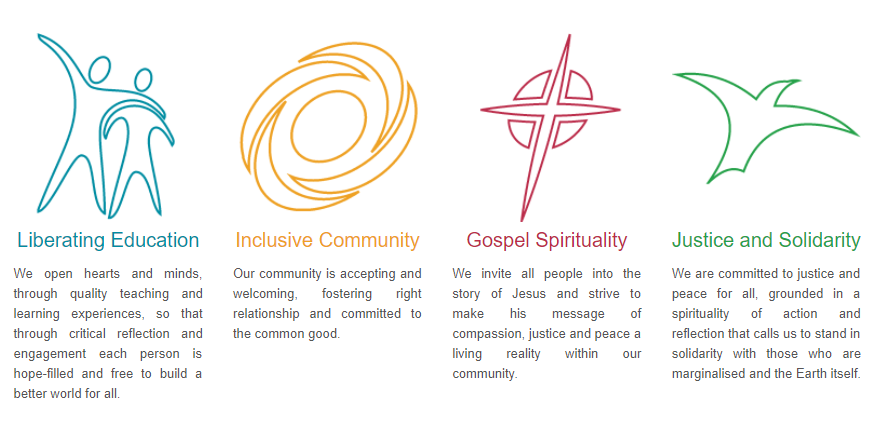 "Challenging, nurturing and inspiring young men to be the best they can be."
As an Edmund Rice School with a proud tradition of providing a quality Catholic education, we are continually challenging, nurturing and inspiring young men to be the best they can be. We strive to offer an innovative and liberating education, based on gospel spirituality, within an inclusive community committed to justice and solidarity. These values are at the core of our mission and are articulated in the Aspiration Statement, which is the foundation of the vibrant and holistic education offered at the College. An education that encourages young men to be aspirational regarding their future, to develop their own spirituality and social conscious, to be countercultural in their thinking and who are empowered to contribute positively to society beyond St Edward's.  We have articulated our commitment to these principles through the College aspiration statement which I have provided below.
College Aspiration Statement

St Edward's College aspires to provide students with a liberating education that empowers them to build a better world for all.

St Edward's College is a faith-filled, community. We are committed to growth and strive for equity and excellence.

St Edward's College promotes a safe and inclusive learning community, committed to fostering right-relationships and the well-being of students and staff.

St Edward's College inspires students to be compassionate, curious, respectful and autonomous learners.

St Edward's College students demonstrate resilience, discipline and perseverance on their learning journey.
The COVID-19 pandemic has created many challenges for us this year as a school community but we have continued to learn and grow, constantly striving to provide the best quality care and education for the young men of St Edward's, in alignment with the principles which underpin the College Aspiration Statement.  The boys have responded equally well as we continually challenge them to focus on being the best they can be in all their endeavours. As we commence the final term for the year, the challenge remains for each student to strive to better themselves in their approach to their work, their relationships and their commitment to their faith. We look forward to working with them in this pursuit.


Commencement of the HSC Examinations
Year 12 students commenced their HSC Examinations on Tuesday, with students sitting for the English examination. These examinations will continue until November 12. We wish all our students the very best in these examinations and we pray that they are able to remain calm, stress free and are committed to achieving their best possible results. The examinations can be a stressful time for students, but we cannot forget the stress that is experienced by family and loved ones of students sitting the examinations. Listed below are some links to articles which may assist parents and families in supporting their son throughout the examinations.
Year 11 Commencing HSC Courses
Year 11 students have commenced work on their HSC Courses from the start of this term. It is important that students in this year group begin to establish some clear routines, ensuring that they manage their time between schoolwork, part-time work, a social life and sport so that a healthy balance is maintained. The Preliminary reports will be made available on the portal in Week 3 and this report provides some valuable information to assist boys in establishing learning goals in each of their courses.
An online information session is being held on Thursday October 22 which will provide parents and students with valuable advice regarding the HSC requirements associated with assessment, completion of work, and application and effort. An email was sent home last week with information and a link to this online meeting and another email will be sent this week reminding students and parents.  In the coming weeks, further support will be provided to Year 11 students in the form of a one-on-one meeting with a member of the College Leadership Team, their Pastoral Leader Mr McCauley or other specialist teachers. These meetings are designed to provide students with support around planning for success, establishing a clear study routine, patterns of study and goal setting for success.
Additional advice to support parents as their son embarks on the HSC Year is available at the NSW Government Department of Education Website at:   HSC help for parents and carers
CWL and Judy Skeahan Scholarship Bequests 2021/22 – Open to current Year 8 and Year 10 students
Through the generosity of various College stakeholders, the College is able to offer the Catholic Women's League part scholarship to current Year 10 students and the Judy Skeahan St Vincent de Paul part scholarship to current Year 8 students, which will contribute to the costs of schooling for the subsequent two years at St Edward's.  Applications for these are currently being accepted from current Year 8 and Year 10 students.  Please clink the link below to visit the College website for more information.
 COVID -19 Updated Health Advice Reminders
It is important that I take time to remind families of the updated advice from NSW Health on additional measures to help mitigate the risk posed by COVID-19 to school communities. These measures relate to ongoing vigilance associated with safety, health, hygiene and school operations.
The following protocols must now be continued:
Students absent or sent home due to flu like symptoms must be tested.
If you are asked to collect your son who is unwell, we ask that you do not come into the office – call the office when you arrive and we will send your son to the front gate;
Parents must notify the College when their son has been tested.
Staff and students must not return to school or work until they return a negative COVID-19 result and are symptom free.
Schools must sight the negative COVID-19 test result prior to allowing students and staff to return to school. This can be done by forwarding the actual text message (not a screen shot) and including the student's name at the top of the text to 0416 907 361.  Alternatively, you can email a screenshot to info@stedwards.nsw.edu.au including the student's name.
We continue to ask parents to keep their son home from school if they have any of the following signs and symptoms:
fever
coughing
sore throat
shortness of breath