Principal's Message
Edmund Rice Education Australia Touchstones
JUSTICE AND SOLIDARITY
We are committed to justice and peace for all, grounded in a spirituality of action and reflection that calls us to stand in solidarity with those who are marginalised
At a recent assembly the Prefects and Leaders of the Spirituality, Liturgy and Social Justice Portfolio presented a powerful presentation to launch their school wide health promotion campaign to raise awareness about adolescent and male mental health.
The excerpts below were taken from their presentation to the whole school as part of the launch. The young men of St Edward's never cease to amaze me with their level of critical thinking, empathy and care for each other. I think you will agree as you read their presentation that we have every reason to have great faith in young people. Our world is in good hands.
2 Corinthians 12:9 "But he said to me, "My grace is sufficient for you, for my power is made perfect in your weakness." Therefore, I will boast all the more gladly about my weaknesses, that Christ's power may rest on me."
Statistics from Health Direct One state that 1 in every 5 Australians suffer from a mental illness in any given year. That's roughly 5 million people which means it's highly likely you or someone you know suffers from mental illness. Australians aren't getting the proper attention they require, luckily here at St Edward's there is help and support available. We want to open a forum to offer support and stop the negative image around talking about Mental Health. Whilst the term Mental Health is broad, it focuses on emotion, behaviour and the relationship between them. Depression for example can often lead to anxiety. Though it can sometimes seem easier to ignore these feelings and emotions, as the task of confronting them may seem daunting, studies have shown that mental health is far easier to detect as well as manage and treat when your brain is still developing. We're all just lads, if you want to talk about feelings, all good, let's talk about feelings. Neither I, nor anyone for that matter, will think less of you as a young man trying to achieve. Put away your pride brothers, your wellbeing is more important.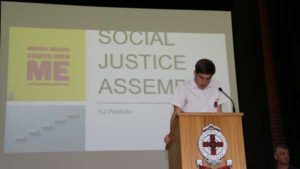 At St Edward's we stand together for justice and solidarity, for those who have experienced and are affected by mental illness. Through the teachings of Blessed Edmund Rice, we are taught that everyone is equal and deserves the right to feel safe and in control of their emotions, resulting in equal opportunity. Thus, as young men in 2020, let us come together to educate our community of the dangers of social stigma surrounding men's mental health and provide a strong support system for those struggling. Look out for your mates, be there for them in times of grief and embody the College's touchstone of Justice and Solidarity. Always remember, that while Mental Health does start with me, it can also start with MEN.
Our initiative is targeted towards starting positive conversations about your mental health and wellbeing with your peers and friends. We are looking into signs and factors that stand out when someone isn't behaving in a way they normally would and strategies you can use to help a friend who is having a hard time. We, as the young men of the future, need to enforce positive relationships with each other to ensure every student has a positive time at St Eddies, free from emotional distress and reaching their maximum potential, in the classroom, sporting field and school community.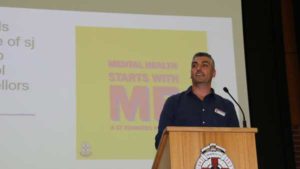 Families are reminded of the professional and confidential counselling and support services offered at the College by our Pastoral Team and College Counsellors, Terase Killin and Marcus Missio-Spiteri. Our commitment to ensuring that we take care of our boys and create an environment in which the stigma that can sometimes be associated with poor mental health is of high priority. One expression of this commitment is the Wellness Centre, which is currently being built at the College, due for completion at the end of Term 2.
Accurate Parent Contact Details
I have continued throughout the last two weeks to keep parents informed of the College's response to COVID-19 via letters sent home via email. This response is informed daily by a range of health and education authorities. If you have not been receiving these emails, please ensure that you contact the College to update your email address and contact details. It is very important that the information that we have on record is accurate so that we can contact you in the event of an emergency and provide you with up to date information. The various correspondence regarding COVID-19 is available at:
St Patrick's East Gosford Parish and Primary School Celebrates Milestone
This year marks the 60th Anniversary of St Patrick's Catholic Primary School and the 55th Anniversary of St Patrick's Parish Church. On Sunday March 15, the Parish marked these milestones with a Mass celebrated by the Most Reverend Anthony Randazzo, Bishop of the Diocese of Broken Bay. Mass was followed by a school fete and luncheon for invited guests. We congratulate St Patrick's Parish Church and Primary School on reaching this milestone and on the wonderful work they do for Catholic families in their community.