HSIE – HSC Major Work
HSIE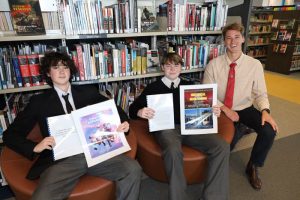 The HSIE Department are thrilled to highlight the outstanding work of our students, Thomas Hunt and Adrian Pozo, who have recently completed their major projects in History Extension. This rigorous endeavour involved months of research, drafting, and dedication to exploring historiography in various captivating areas of historical interpretation, from the construction of the Lost Cause Myth following the American Civil War to the impact of technology on the writing and re-writing of history.
Students were given the freedom to choose their focus, as long as it revolved around the fundamental historiographical concepts and issues of History Extension. The History Project was entirely the result of each student's dedication and research, where they showcased exceptional dedication and critical thinking throughout their projects. They delved deep into their chosen areas, providing fresh insights and perspectives on various historical topics utilising a range of academic and popular sources to construct their analysis.
Each student's journey was unique, but they all shared a common commitment to unravelling the complexities of historiography. Their projects were marked by originality, thoroughness, and meticulous research.
We extend our heartfelt congratulations to these students for their remarkable achievements in the field of History Extension. Their dedication to uncovering the layers of history and critically analysing different perspectives is truly commendable.
Return to Newsletter