Ryan Green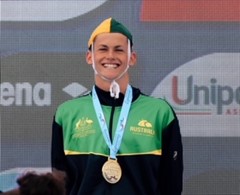 Congratulations to Ryan Green who recently completed in the World Surf Lifesaving Titles (Riccione, Italy). Ryan competed for the Australian Youth Team in both the Ocean and Pool. Ryan won medals in the following:
Ocean
Teams – claimed gold in the Taplin, board rescue and beach relay
Individually – won gold in the board race
Pool
Teams – silver in the 4 x 25 and 4 x 50m manikin tow
Overall, the Youth team won 17 gold medals to secure 1st place. The Australian Life Saving team won the overall point score, the first nation to win both events. A phenomenal accomplishment Ryan!