Year 9 and 10 Touch Football
A very cold and windy day greeted the boys for the Year 9 and 10 Central Coast All Schools Touch Football at 'middle earth' Adcock Park on Wednesday 8 May.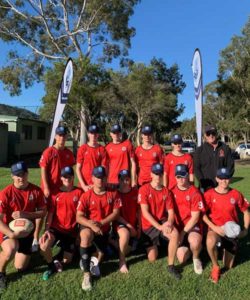 The windy conditions meant a change in tactics throughout the day. Long passes and running with the ball into the wind saw minor adjustments to the way we played. The Team had pool games against All Saints, Maitland (winning 6-0), Tuggerah Lakes Secondary College, Tumbi Umbi (drawing 1-1), Erina High School (winning 6-0) and Gorokan High School (winning 11-1). A combination of trust in defence and creative ball movement in attack led to some very well constructed tries. Their results ensured they gained first place in their pool.
In their semi-final they played Narara Valley High School. The team had been building in cohesion and confidence throughout the day. They never seemed troubled by Narara and comfortably won 5-1. The only down-side was an injury to Ben Dufficy.
The final was against Wadalba High School, who won a tight semi final against Tuggerah Lakes Secondary College, Tumbi Umbi. The boys got into a rhythm early and jumped to a 3-0 lead. Wadalba clawed their way back to 3-2, exposing a few defensive lapses. The boys composed themselves and wrestled back control to eventually win 5-3.
The team now moves onto the NSW All Schools Finals at the Kingsway Playing Fields, Werrington on Friday 14 June. Well Done Boys.
The team consisted of Owen Flaherty, Ben Dufficy, Sebastian Plaister, Joel Sherub, Leith Van Aalderen, Wiremu Tibbutt, Toby Paterson, Tyrone Dorrell, Kieran Diamond, Beau Newlands, Daniel Peters and Joel Evans.
Also, a big thank you to Zac Healey and Josh Woutersz (Year 11 Sport Coaching), who refereed on the day as the College representatives.