Year 8 English: Dr Gordon Reid, Member for Robinson
During their study of the unit Stop the Press, Year 8 students were asked to study and advocate for an issue of their choosing.
At the core of this study was the intention to develop students' understanding of the EREA touchstone of Justice and Solidarity, which states: we are committed to justice and peace for all, grounded in a spirituality of action and reflection that calls us to stand in solidarity with those who are marginalised and the earth itself. Students crafted a persuasive letter and sent this to their local member of parliament. This assignment aimed to improve students' understanding of the democratic system by encouraging them to understand that they have a voice and can effect change.
We were excited to be able to welcome Dr Gordon Reid, Member for Robinson, who visited Year 8 to respond to their letters. Dr Reid shared with the cohort his reasons for changing career from an Emergency Doctor to become a politician, explaining that he realised that he had two options: either complain about the status quo or act to make meaningful change. He discussed his passion for representing the Central Coast community and some of the improvements he was working to make in health, the environment and community projects in our area. He answered a wide range of questions from students, which covered a myriad of topics from his work to fight climate change to his experiences working as an Emergency Doctor in Gosford Hospital during the pandemic. The English Faculty would like to thank Dr Reid for finding time to visit us during his busy schedule, as he juggles his work as a politician and Emergency Doctor. Year 8 student Beau Louis wrote the following reflection after the visit:
We were happy to have Dr Gordon Reid come over to our school to explain to us what he does for a living as a Labor member and doctor. He explained to us his passion for climate change and how the government is getting rid of the negative effects of this by reducing environmental emissions. This can determine the future of our one and only world. He also explained to us why he wanted to become a doctor and politician. He explained how he always felt the need to help others and the environment. With this determination, he became a doctor member for Robertson, striving to care for our community and reduce climate change.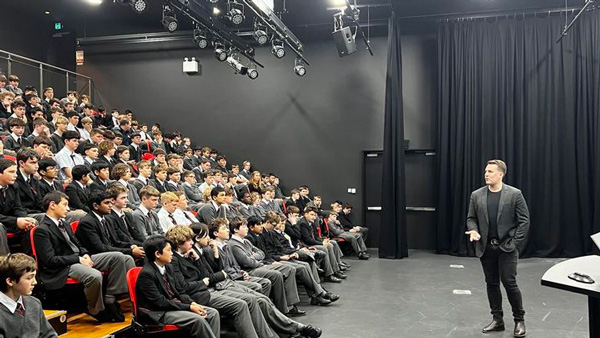 Return to Newsletter