Year 7 History Tweets
This term students from Mr English's Year 7 HSIE class have been studying the ancient past during their History lessons.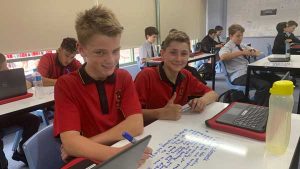 One of the learning tasks asked the boys to create a series of Twitter comments in reaction to the recent destruction of indigenous sites in the Pilbara by mining giant Rio Tinto.
A tweet from Luca Quitadamo that supports the need to preserve and conserve the ancient past
We need to take action against people and companies such as Rio Tinto that aren't conserving or preserving our ancient past. If we lose our heritage and culture it'll be lost forever. Just because there are laws stating that destroying heritage is okay doesn't mean it's the right thing to do.

#AboriginalHeritageAct1972

#HowDareYouTakeOurLand

#NotOkToMineAway

#AskToPass

#PreserveAndConserve
A tweet from Jesse Kemp that argues that it's OK to destroy the past if it is for profits, political gain, personal satisfaction or progress
Destroying ancient artifacts is and will always be okay. We cannot linger on the past all the time as this world is constantly changing. You can't protect ancient sites forever especially if they're hiding away precious materials required for the evolution of the human race. Now in the modern era, plenty of photos and articles are written in case you want to remember a specific place. There is no need for us to witch hunt @RioTinto as their intentions aren't hostile. They are just trying to put the Earth's natural resources to good use and make some money on the way. 

#RioTintoDidNothingWrong

#WeNeedToEvolve

#DontLingerOnThePast

#progress.
A tweet from Alexander Benz that acknowledges there is a problem with how we preserve and conserve the ancient past and suggests a possible solution to unite our communities
Creating solutions to the issues of destroying our ancient past is something we should take very seriously. If companies want to mine the sites they need permission from the state government and original custodians of the land, of which they are willing to give to help benefit our country's future. Another way people could bring light to the situation is by raising awareness through ads or peaceful protests. This can have a big impact because it allows people to speak their minds on the matter and hopefully convince Rio Tinto that what they are doing is wrong and that they need to make things right. 

#Changethelaw

#Indigenouschoice

#Spreadtheword

#Hearourvoice

#Resolvetherage