An Update from the Visual Arts Faculty
Congratulations
Congratulations to Year 12, 2022 students Tom Crouch, Kynan Saul, Billy Pritchard and Louis Whyatt who were selected to exhibit in the NEXT GEN University of Newcastle exhibition.
This was a huge achievement, and all four boys should be congratulated for their success. Special mention goes to Kynan Saul, who is engaged in the process of selling his work to the UoN Music Department. Also, congratulations to Tom Crouch who was awarded the Curator's Award for the use of technique and materials that enhance the conceptual underpinning of his work.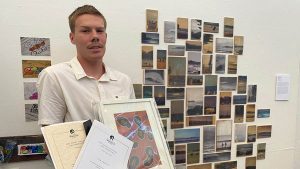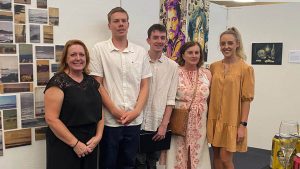 AGNSW Excursion
Senior students from Visual Arts and Photography were able to visit the Art Gallery of NSW last week to view the Art Express and Permanent Exhibitions.
Photography students were then taken into the city for a workshop in city and street photography – in the pouring rain. The reflections and puddles greatly enhanced our photos, which look fantastic. Even though we nearly drowned, it was warm rain and we were able to produce a fantastic portfolio of work.
Click Here to view the full gallery

16 Images
Stage 4 and 5 Art
Both Years 7 and 8 have been working hard to complete their tasks according to the Visual Arts historical timeline. For Year 7, that means looking in depth at the true history of First Nations Australians and their long impact on rock carvings and paintings of Darkinjung country.
Classes have also been studying linear, single point and double point perspective as found in the Renaissance.