Waterford Project
Great Effort Towards Waterford Hours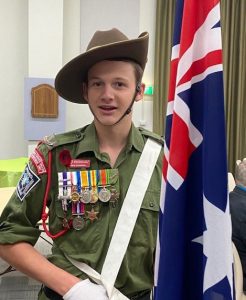 In February Harry Cockerton joined the National Service 1951-72 Re-Enactment Unit where he has trained fortnightly to get ready for Anzac day.
Harry gave up most of the second week of the school holidays to attend nursing homes, helping conduct Anzac services to those that could not make services on the day, as the Australian Flag bearer.
On Anzac Day Harry was part of 4 services: Ettalong, Empire Bay, Gosford Race course and ended it at the Central Coast Stadium.
In addition, Harry spent Tuesday 26 April at St Patrick Primary School service and finished at the Salvation Army retirement village.  He has been part of a total of 12 services in 7 days.
Homeless Sleepout
On Thursday 28 April, 53 boys from Years 9-11 chose to experience a taste of homelessness, in our annual simulation event.
Responses from the boys (the next morning) included: 'challenging', 'weird feeling', 'I'm so glad it didn't rain".
Thank you to Ms Nowalinski and Mr English for their support in coming to this event.
Waterford Opportunities
All boys are required to complete our traditional service-learning program, the Waterford Project,  by the end of Term 3
Apart from the numerous community-based choices your son has eg surf clubs, sports clubs, parish, etc, the College offers the chance to complete this program in some of the following ways:
Clean Up Australia Day (any day of choice)
Edmund Rice International – walk, run, cycle, swim, surf, skate.  This program is to raise money for local organisations of your choice
St John's Ambulance First Aid course
Portfolio Involvement
Peer Mentoring – assisting other students by helping them with learning or sports etc
Salvo's Appeal
Coast Shelter Assistance
Kings Cross Excursion
Local community assistance eg sporting clubs, parishes.
Please ask your son to see me, or his Religious Education teacher, if he would like more information on the above opportunities.
Mr Patrick Dell
Leader of Learning Social Justice