Visual Arts and Photography Prize from Gosford Private Hospital
Recently, Gosford Private Hospital approached all local high schools to create an idea for an artwork that would decorate a hallway within the grounds of the hospital.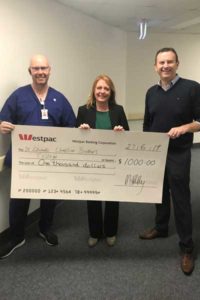 The idea of the decoration was to create a more welcoming and visually interesting corridor for patients travelling between wards or treatment rooms.
St Edward's boys created the idea of a panelled artwork consisting of five large photographic works around the following theme:
The students of St Edward's see the Coast as having the best of three worlds:
Proximity of beaches and waterways that are central to both the Coast as well as to most residents' lives
A creative community that supports the development of artists such as the budding photographers who will be creating this artwork
The ability to provide a sense of wellness to enhance the recovery of patients who may stay at the Hospital through exposure to the beautiful local landscape.
Hospital patients can feel trapped inside and are unable to fully experience the Central Coast landscape, which could help their recovery. Over the top of the photographs of the landscape, the students will digitally draw white outlines of other features of the coast – such as a symbol of our connection to Edogawa in Japan (and the Gardens at the Regional Art Gallery) through Hokusai's 'The Great Wave' and symbols of the wildlife surrounding us such as birds and fish. All of this imagery will overlap so viewers of the artwork can see each photograph separately or as a whole piece.
St Edward's students were chosen as the winners of the competition and have received $1000 towards the production of the artwork and its' framing.
Stay tuned for the finished artwork to be revealed by the chosen students and their submissions!