Under 16's Rugby Union
Central Coast Rugby 7's Carnival
On Thursday, 8 September, the College entered a record three teams in the Under 16's Central Coast 7's tournament held at Central Coast Sports College, Kariong. Each team played in a separate pool, with each pool having 4 schools from across the Central Coast. With many of the boys being exposed to Rugby 7's for the first time, it was a daunting task to play such a fast-paced game on a full-field. However, each boy, and team, quickly overcame any such nerves and played some quality, exciting rugby.
The boys were all fantastic ambassadors for the College, and their sportsmanship and skills were commented on by both the referees and NSW Waratah staff. Congratulations to the boys for the skills shown, positive attitude and excellent support play throughout the day.
While the day did not have an overall champion side, the three teams each competed admirably, with a total of 7 matches won from 9 played. 16 Red won 2 – lost 1, 16 Black won 2 – lost 1 and the 16 White won 3 (undefeated).
16's Red Team:  Max Leaitua, Keanu Wells, Oscar Mahoney, Kale Puata, Nate Vaughan, Harry Burgess, Devonte Vaotuua, Mitchell Ryan, Tevita Paea, Angus Newport and Archie Mesritz
16's Black Team: Kaelan Markey, Taj Oehm, Byron Marks, Luther Thomas, Marlen Wilson, Ben Willoughby, Riley Gardner, Samuel Nowalinski, Jai McLachlan, Lachlan Tibbutt, Cooper Wheelock
16's White Team:  Thomas Putts, Elijah McMonigal, Jimmy Stuart, Cameron Woodruff, Corey Calamatta, Jake McKeon, Riley Turner, Jared Gilston, Brayden O'Leary, Lincoln Markulin, Hudson Sky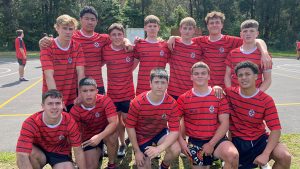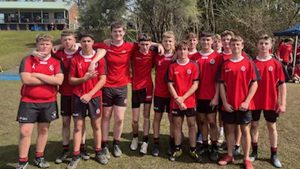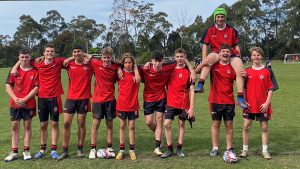 Broken Bay Diocesan Rugby 7's Championship
Tuesday 13 September saw the Broken Bay Diocese hold the inaugural Rugby 7's championship, contested at EDSAC, Bateau Bay. Drawing from Catholic Colleges from Manly through to Lake Munmorah, it was a great opportunity for the boys to not only play some more Rugby, but to compete for bragging rights within the Diocese. While originally there were 7 schools entered into the Year 9 and 10 competition, by the time the day began this was whittled down to 4 teams, with each team playing each other once in the "pool stage", with the top two teams then playing off in a final.
Having played together only the week beforehand, the boys were comfortable in the simple game plan of controlling the breakdown, recycling the ball quickly and spreading the ball wide. The support play was exceptional, with positive communication being the key.
Congratulations to the boys taking out the day in such a strong and commanding fashion. Definitely look forward to watching these boys continue to play Rugby in the future.
Games
St Edward's College vs St Brigid's Catholic College:      Won 5 tries – 1
St Edward's College vs MacKillop Catholic College:      Won 6 tries – 0
St Edward's College vs Mater Maria Catholic College :  Won 6 tries – 0
Final
St Edward's College vs St Brigid's Cathoic College:       Won 6 tries – 0
Year 9 and 10 Team: Max Leaitua, Keanu Wells, Oscar Mahoney, Kale Puata, Nate Vaughan, Harry Burgess, Devonte Vaotuua, Mitchell Ryan, Tevita Paea, Angus Newport, Archie Mesritz, Jared Gilston and Byron Marks