Under 16's Rugby Sevens
The Under 16's Rugby Sevens team travelled to Granville to compete in the NSW State Finals.
The team showed a lot of character to play against quality opposition and performed with courage in the face of adversity, due to the withdrawal of two players to illness. Although the results didn't go their way, each game was a tough contest and the boys played with enjoyment and passion.
Thank you to Mr Summerhayes, Mr Reynolds and Mr Carpenter for the support and everyone who contributed to such a great day of rugby.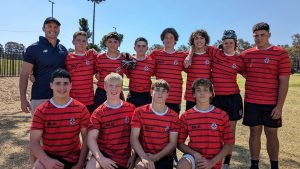 St Edward's College vs St Pius Catholic College, Adamstown: 0-28
St Edward's College vs Mater Maria Catholic College : 17-21
St Edward's College vs Bishop Druitt College: 14-25
St Edward's College vs Balgowlah High School: 19-21
Team
Tom Flynn, Orsen Bailey, Owen Bell, Nate Vaughan, Luke Harrison, Luka Coughlin-Berg, Angus Stewart, Brooklyn Roberts, Riley Buda, Ben Geddes-Brown