Under 15's Touch Football
Under 15's Touch Football
After trialling in the third week of Term 1, the following boys were chosen to represent the College at the Broken Bay School Championships: Sean Bullen, Zachary Straker, Samuel Flakus, Hunter Kay, Byron Marks, Luke Shereb, Donovan Wright, Matthew Humphries, Harper Turner, Samuel Logan, Korey Botting, Blade Marquart, and Oscar Mahoney.
Captained by Sean Bullen, the team moved confidently through their pool games and had convincing wins, 6-2 over St Paul's College, Manly; 8-0 over St Brigid's Catholic College, Lake Munmorah; and 5-2 over Mater Maria College, Warriewood.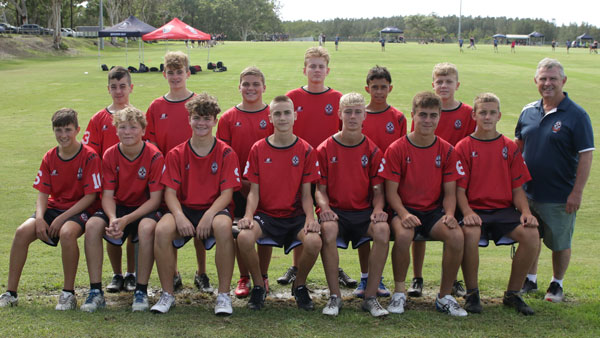 An easy 8-0 win over St Leo's College, Wahroonga, in the quarter finals, set the team up for a 3-1 win over Mary McKillop Catholic College, Warnervale, in the semi-final.
Unfortunately, our young team was defeated by St Augustine's, Brookvale in the final, 8-4. All the boys played well and with two thirds of the team playing up an age group, the challenge is to go one better next year.
The player's player on the day was Sean Buller, Year 10, who led from the front and was positive in all that he did on the field.
After a possible/probable trial was held on the day, the following boys were selected for the Broken Bay Under 15's team to contest the NSWCCC Championships later this year: Sean Bullen, Matthew Humphries, and Sam Flakus. Zac Straker and Harper Turner were also named as Shadow Players for the team.
Mr Paul English
Coach/Manager