Triathlon
On 27 February, 21 St Edward's College students travelled down to the International Regatta Centre to participate in the NSW All Schools Teams Triathlon.
There were five intermediate teams, one junior and one senior team. The juniors were in the water first and finished 9th overall in the CCC division. Callum Kinnaird, the rider for this team, finished with the best overall junior time on the bike leg which is a huge achievement!
Our intermediate boys were all competitive and four out of the five swimmers came out of the water as the top 12 swimmers lead by Daniel McLoughlin. This is a huge achievement considering there were over 200 competitors in each race. Daniel McLoughlin's team with Alec Walters and Gabe Scott, finished 2nd in the CCC division and were awarded a medal for their efforts.
The senior division, who were all racing in their last triathlon for the College, saw a very competitive field. Jacob Curcio, our swimmer, came out of the water in the top 10. Logan Pugsley went hard on the bike followed by Daniel Hope however the boys were unable to finish in the top three, narrowly missing out on a medal in the CCC division.
For me it was a great day out with the students, they were able to register independently with the older boys helping out the younger ones. Mr Tom Ristuccia provided the boys with expert advice on strategy from his years of experience on the track and all the boys were there watching each other's races and cheering each other on. Congratulations to all who participated!
Mr Michael Gentle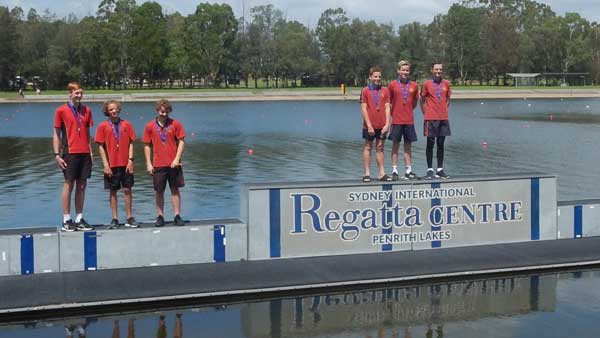 Teams
Junior
Marshal Dodsworth, Callum Kinnaird, Archie Hamilton
Intermediate
Daniel McLoughlin, Alec Walters, Gabe Scott
Nathan Irvine, Zane Kirkman, Chris Murray
Jayden Redfern, Sunny McRae, Tahj Werner
Taine Beavis, Leith Van Aalderen, Jackson Ryan
Adrian Pozo, Roman Cunico, Callan Tucker
Senior
Jacob Curcio, Logan Pugsley, Daniel Hope