Touch Football
Last Thursday, both Years 7 and 8 and Year 9 and 10 Touch Football teams travelled to MacKillop Catholic College, Warnervale to play their Round 1 games.

Years 7 and 8
On Thursday 22 October, the Under 13's and 14's touch football side travelled to MacKillop Catholic College Warnervale for their first game. The boys were in high spirits and worked exceptionally as a team. As a result, they ended up scoring 15 points and taking the win. The team is to be congratulated for their positive attitude and hard work. This week our focus in on clear communication and integrating all players into our plays.
Congratulations to our incredible boys: Cooper Jones, Sam Logan, Fletcher Sommerville, Donovan Wright, Harper Turner, Ryder Kasun, Josh Brown, Sam Flakus, Byron Marks, Fletcher Stuart, Matt Humphries, Luke Cherub and Latrelle Wilson.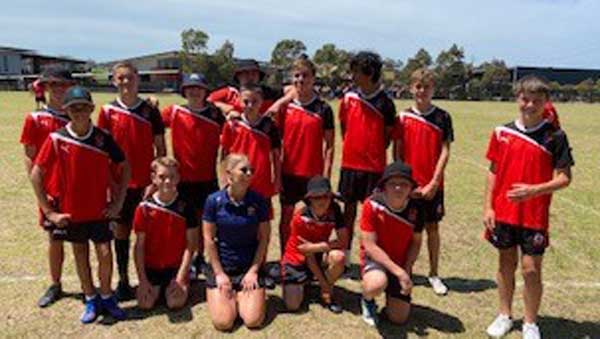 Years 9 and 10
The team had a resounding win (16-2) over MacKillop Catholic College, scoring some fantastic tries.
Our team was very excited to be finally playing some level of competition. Right from the outset St Edward's gained control of the game and were able to move down field easily and score a number of tries from simply creating an overlap. Our pressure in defence saw a few of the boys take intercepts and either score or set up a try for a teammate. The team did a great job of controlling the tempo of the game and playing off the back of that momentum to easily account for MacKillop.
The team consisted of:  Sebastian Plaister (c), Zane Smith, Jonah Wright, Leith van Aalderen, Tyrone Dorrell, Sean Bullen, Calan Tucker, Tommo Peters, Charlie Cartwright, Will Hodder, Aymn Hamilton and Elliot Sterland.
Our next games in the competition are:
Thursday 5 November v St Brigid's Catholic College, Lake Munmorah – St Edward's College Oval
Thursday 19 November v St Peter's Catholic College, Tuggerah  – CCRSC Tuggerah
Thursday 4 December TBC