The Latest News from the HSIE Faculty
Year 12 Ancient, Modern and Extension History HSC Lecture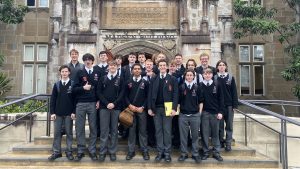 On Thursday 1 June, the Year 12 Ancient, Modern and Extension History students travelled down by train to the University of Sydney to attend a HSC lecture study day with other students across NSW.
In university fashion, students had the freedom to elect lectures that suited their study needs and hear from expert HSC markers, syllabus writers and teachers in a bid to hone their critical thinking and writing skills in the lead up to the Trial HSC.
Year 12 Business Studies Excursion
On Tuesday 6 June, the Year 12 Business Studies classes made a second attempt to travel up to Cardiff to visit the Tony White Motor Trade Group. This time, the weather and traffic were in our favour.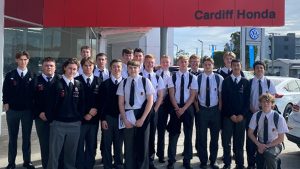 Part of the HSC Business Studies course requires students to examine and explore various areas of business Management including Operations, Marketing, Financial and Human Resources. The Tony White Group offered the students a firsthand account on how a large corporation organises its key functions and the impact these have on the running of the privately owned business. The students also learnt how various external influences have impacted this business and the strategies they use to accommodate these. The business students were keen to learn about the level of coordination and organisation that goes into making a large business, such as the Tony White Group successful.
Year 12 gained a deeper insight into this organisation's operations, marketing, finance, and human resource sectors. The boys actively involved themselves and showed a keenness to learn throughout the presentation. They asked a range of questions, took notes, toured the three dealerships on the Cardiff campus as well as found the time to examine the different cars for sale.
The information on the Tony White Motor Trade Group is invaluable as Year 12 work towards their Trial Exams in Term 3 and the HSC Examination in Term 4.
A special thanks to Mr Speziale for driving the bus up to Cardiff and to the Year 12 boys for being great ambassadors for St Edward's College.
Years 8, 9 and 10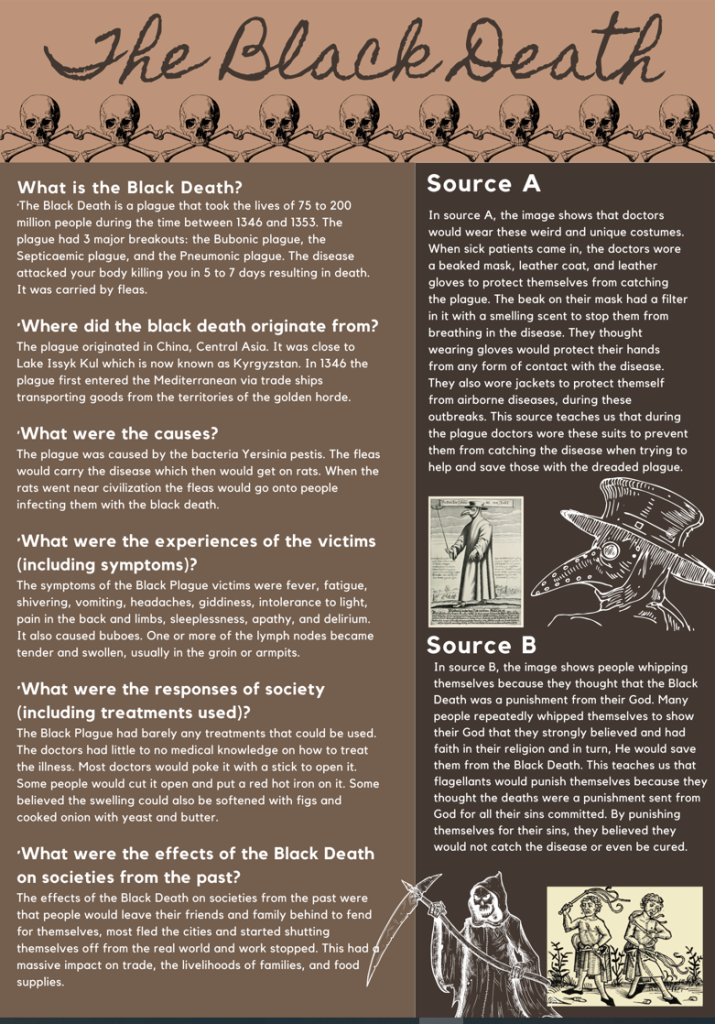 Students in Years 8, 9 and 10 are finishing their study of History and will begin their Geography course work in Semester 2. Excitingly this term, students have been very creative in their assessment tasks. This includes Year 10 building websites, podcasts, multimodal and exhibition spaces to showcase the experience of an Australian Vietnam soldier. In Year 9, students had the choice to choose an element of both world wars and create a similarity and differences comparison study. Finally, in Year 8, students showed their artistic flair designing posters detailing grisly details of the Black Death in Europe. See Year 8 students' work to the right and below.
For Geography next semester, we plan on doing plenty of fieldwork as students will be engaging with the world around them and finding solutions big and small to the range of challenges we face as a community.