The Latest from the PDHPE Faculty
Year 7 PDHPE
Year 7 PDHPE started the year with a unit that aims to help students cope with all sorts of challenges and changes. Students had to prepare a 'How To' guide for other Year 7 students facing a particular challenge. Many chose to provide strategies for starting high school, others chose strategies for coping with other changes such as puberty.
The Balance and Bounce unit saw the Year 7 students tumbling, balancing, springing and landing performing various gymnastics skills, building up to a routine.
Joel Washington's How To Guide for Year 7
Year 8 PDHPE
Students had fun learning a 'little played' sport in Australia, European Handball. They were assessed on their skills and the rules of this fast moving sport. They looked at making good choices in relation to risk taking and concentrated on practising mindfulness to cope with stress, making time for the present, not worrying about past issues or future assessments or worries.
Year 9 PDHPE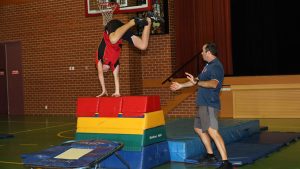 Year 9 PDHPE enjoyed gymnastics; springing, landing and vaulting. They analysed their own diets and exercise programs and are now investigating their social media footprint. Last term some of the classes were fortunate enough to have a boxing fitness session with Trent Worrall (Mrs Worrall's husband) and a female up and coming boxing star who is a student at Central Coast Sports College.
Year 9 Physical Activity and Sport Studies (PASS)
Year 9 PASS studied Australia's Sporting Identity – how did we come to be known as such a sporting nation? They also tried their hand at archery and to make them improve, we created some lovely images of their teacher's faces to improve their accuracy!
Year 10 PDHPE
Year 10 PDHPE experienced the components of fitness through practical applications. They studied respectful relationships and are being assessed on their Super Coach talents – a chance to take charge and see how hard it is to control 30 students.
Year 10 Physical Activity and Sport Studies (PASS)
Year 10 PASS researched issues in Sport, in particular the rise and fall of Lance Armstrong. This term they are learning about Body Systems and Energy for Physical Activity.
Year 11 Outdoor Recreation VET Course
This year we had the successful introduction of the Year 11 Outdoor Recreation VET course. The boys have had fantastic experiences in the outdoors. They paddled from and to school, over to Adcock Park, West Gosford – with fishing and paddling races on the journey. They attended Work Placement on the Year 9 Camp at Wee Jasper, with Mrs Henderson overseeing the boys, who assisted, mentored and encouraged the Year 9 students. They also set up tents, tents and more tents as well as experiencing caving. They proved to be excellent role models and the staff were appreciative of their help. Back at Gosford pool they performed a deep water rescue. Next week they are heading off to The Basin for a four day camp; hiking, kayaking, surfing and mountain biking. Later in the term they will complete their First Aid certificate.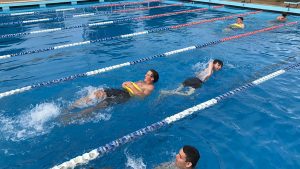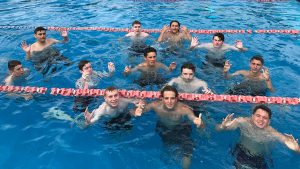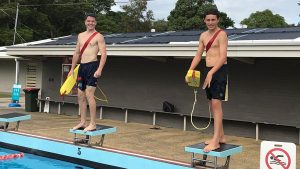 Year 11 PDHPE
Year 11 PDHPE started the year with their First Aid Assessment and intrigued the junior students with their navigation task in the quad. They participated in a one day expedition – mountain biking, orienteering and kayaking their way in and around the Brisbane Water area. A challenging day filled with the natural beauty that surrounds us. We are so fortunate to be able to use the jetty and waterfront to paddle from and to school. Thank you to Mr Butt, Mr Ellis, Mrs Henderson and Mrs Worrall for making the boys' day so enjoyable.
Year 11 Sport Lifestyle and Recreation (SLR)
11SLR learned the finer safety and technique details of Track and Field events and are now participating in a coaching unit.
Year 12 PDHPE
Year 12 PDHPE have had their head down in exams and are off to Sydney for The Big Day Out for PDHPE in a couple of weeks to listen to guest speakers who will make their syllabus come to life. These guest speakers are employed in various areas of sport and health and are experts in their field.
Year 12 Sport Lifestyle and Recreation (SLR)
Year 12 SLR have been experiencing hands on practical units of resistance training and are attending Gosford pool to complete an aquatics human movement analysis.
A special thanks to the PDHPE staff team who all make these amazing experiences happen!