St Edward's Sleepout
The first St Edward's College Sleepout for the year took place on Thursday and Friday Week 2 this term.
This inspiring event that took place on our College grounds in the Quad, where both students and staff spent the night to build empathy for others in our community. This initiative brought together our passionate students who braved the elements and slept in sleeping bags on the veranda, all in the spirit of raising awareness and building empathy for those experiencing homelessness.
The evening commenced with an informative presentation on homelessness in Australia. Students were provided with invaluable insights into the multifaceted issues faced by individuals and families without a permanent place to call home. This educational session shed light on the challenges they encounter daily, allowing our participants to better understand the importance of supporting those in need.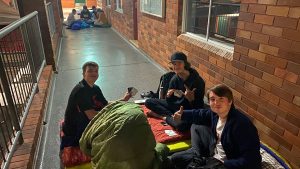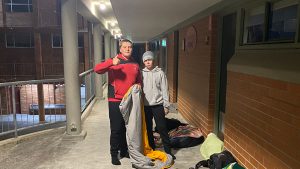 The main objective of  Sleepout 2023 was to provide our students with an opportunity to step out of their comfort zones and gain a glimpse into the realities of homelessness. While we acknowledge that one night in the cold cannot fully replicate the experiences of those without shelter, it served as a powerful catalyst for empathy. By spending this night outside, our students aimed to deepen their understanding and foster a greater sense of compassion towards the less fortunate members of our community.
We are proud to announce that the College has recognised the significance of this event by allocating Waterford hours for participation. This means that students who took part in the sleepout will receive recognition for their contribution to the community.
To facilitate this event, a nominal donation of $10 was requested from each participant. All funds raised during the Sleepout 2023 have been donated directly to Coast Shelter, a prominent organisation providing vital support services for people experiencing homelessness and domestic and family violence. These donations will be used to assist in our monthly commitment to provide meals for those in need.
Coast Shelter is renowned for its local focus and commitment to delivering innovative solutions to tackle homelessness, domestic and family violence, and poverty. The money raised by our students will make a tangible impact on their work, enabling them to implement both immediate and lasting changes in our community.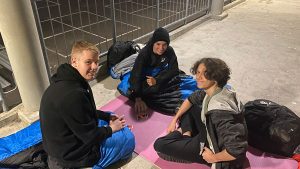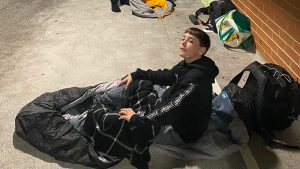 We would like to extend our deepest gratitude to all the students, parents, and staff members who generously supported Sleepout 2023. Your contributions, whether through participation, donating efforts, or simply raising awareness, have played a pivotal role in making this event a resounding success.
St Edward's College remains dedicated to fostering empathy, compassion, and community engagement among our students. Sleepout 2023 has been a significant step towards achieving these goals, and we are proud of the empathy and understanding our students have developed through this experience. There will be another opportunity for students in Year's 9-11 to participate in another Sleepout held later in the year.
Thank you once again for your unwavering support and commitment to making a positive difference in the lives of others. Together, we can create a more compassionate and inclusive society.
Alex Rozario
Leader of Justice, Peace, and Advocacy
Return to Newsletter