Social Justice News and Annual Christmas Appeal
St Edward's is proud to enjoy an ongoing connection with Vinnies and Coast Shelter.
Our aim again this year will be to provide more than 100 hampers for food items, to provide a Christmas lunch for our local disadvantaged people.
Your son will be asked to bring in particular items to his Homeroom teacher over the next few weeks. Every person in the College community is asked to make a contribution, even if it is simply a tin of canned food eg ham, turkey, or soft drinks, biscuits, chips, bon bons etc. Boys will be asked to bring in items, in year cohorts, so that we create balanced hampers. This is not a toy drive, but rather a meal for a family to share and enjoy.
The College thanks Amy Luttrell and her team at Bunnings Erina, for their ongoing assistance to us each year, by providing the bags for the hampers.
Please feel welcome to contact me at the College if you have any questions about our Christmas Appeal. pdell@stedwards.nsw.edu.au
Phil Glendenning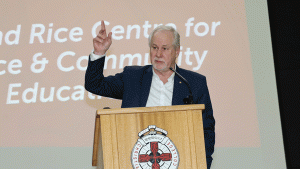 The College was privileged to have the Leader of the Edmund Rice Centre for Justice, Sydney, Phil Glendenning at Friday's assembly. Phil is a nationally and internationally leading voice in Human Rights and Social Justice. His talk passionately urged our boys to become men of action, to side with our most disadvantaged groups eg Reconciliation, Refugees.