Rugby 7's
Rugby Union Sevens Against Central Coast Sports College

Under 13's 'Friendly'
We travelled up the mountain to take on the Central Coast Sports College in a friendly game of rugby sevens. The boys were grateful to be able to represent the school after such a strange year of disruption and they started the game with gusto. After we scored the first try the scoreboard continued to tick over as both sides were keen to spread the ball wide to their speedy finishers. Everyone played their part to make the game successful and because no conversions were taken, or score recorded, both teams agreed to a "gentleman's draw". This was a great way to finish the sporting year for many of our students and should lead nicely into next year where a lot of these boys will be gunning for a state title.
Team:  Nate Vaughan, Keanu Wells, Archer Mesritz, Toa Paea, Jay Clark, Riley Turner, Donovan Wright, Kieran White, Sam Tracey, Cooper Wheelock, Caleb Peterson, Deakin Wright, Saxon Young.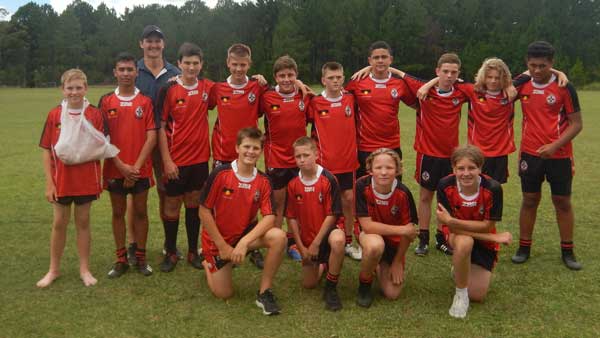 Under 15's and Under 17's
On 25 November the College Rugby 7's teams travelled to Kariong to play fixtures against Central Coast Sports College. It was a great opportunity for the boys to play rugby, even though it was in the limited number format of 7's, after the disrupted year they've had. The Central Coast Sports College was an unknown quantity, as they have only started their 7's program with earnest this year, though knowing that they had been training all year without playing any matches the boys realised that these were not going to be easy matches…and they weren't.
Having not played for a period of time, the speed and ferocity of the games was unexpected, especially for those boys who had not experienced 7's rugby before. Even though the matches are only 14 minutes long, attacking and defending across a full rugby field definitely takes its toll. The games were entertaining for those who were in attendance, fast paced, pin-point passing, great support play and ferocious defence, and the boys really enjoyed the opportunity to play football.
This opportunity for the boys would not occur without the time and effort of planning the day, organising the teams, transporting them etc. Many thanks to Central Coast Sports College for hosting the games, Mr Jason Carpenter for communicating with Central Coast Sports College and Mrs Tanya Olip and Mrs Kristen Mantellato for managing these sides.
Team Under 15:  Joseph Bonham, Leroy Carter-Mason, Dylan Day, Harley Dimech, Jacob Hassan, Will Hodder, Noah Kidd, Oscar McCoombe-Lopez, Sunny McRae, Max Newman, Lachlan Paea, Tevita Tibbutt
Team Under 17: Will Cohen, Charlie Crimmings, Hunter Dixon, Dylan Foster, Ulysses Fotofilli, Riley Marotta, Daniel Peters, Angus Price-Jones, Jackson Ryan, Nat Stanley, Cameron Steer, Sterling Witt
Results:
15's:

Game 1: Won 15-10
Game 2: Won 15-10

17's:

Game 1: Won 20-10
Game 2: Won 30-5