Representative Sporting Achievements
NSWCCC Under 15 Rugby League Team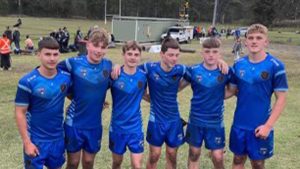 After impressive performances for the Metropolitan team in the NSWCCC Selection Carnival on Friday 20 and Saturday 21 June, Darcy Smith and Max Taylor gained selection in the NSWCCC Under 15 team. The boys will now travel with the team to the Australian Rugby League Championships from Saturday 2 – Friday 8 July in Redcliffe, QLD.
Broken Bay (BBSSSA) Opens Football
Well done to Michael Holmes, Owen Bradstreet, Jude Rankin, Jesi Wanjohi, Josef Lewis and Finn Palmqvist who were part of the Broken Bay Open's Football team that was runner-up in the NSWCCC Championships. Undefeated in their pool games, the team eventually lost in a penalty shoot-out to Newcastle in the Final.