Recipe from Breakfast with Books
Mrs Titheradge's Nutella Overnight Oats from Breakfast With Books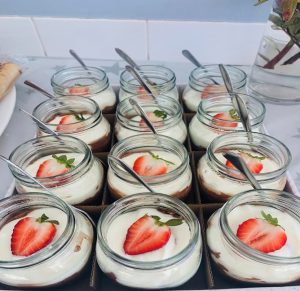 After the recent success of the English faculty's new reading club 'Breakfast With Books', many students have requested the recipe for Mrs Titheradge's Nutella Overnight Oats. These oats are easily prepared days in advance and are a quick and easy start to the day. You can even eat them on the run – in the car on the way to school or weekend sport!
If you want to leave out the sugar, you can sweeten with a natural sweetener like Stevia, sugar-free maple syrup, or even dates! This recipe is for a serving of 12 small mason jars. If you want to serve a smaller crowd, simply divide the recipe by the number of serves you need. These are best made 2 days in advance.
Mrs Titheradge's Nutella Overnight Oats.
Utensils
Large mixing bowl, 12 small mason jars, spoons, a sharp knife, measuring cups.
Ingredients
7 cups of rolled oats
1 cup of unsweetened Cacao
½ cup sugar (or a natural sweetener – Stevia/Monkfruit/maple Syrup/Dates)
1 litre of milk (any variety is fine)
12 heaped teaspoons of Nutella
12 tablespoons of vanilla yoghurt (use YoPro for a protein hit)
Strawberries.
Method
In a large mixing bowl combine oats, cacao and sugar. Mix well to combine.
Add the milk and stir well. Allow to sit for 10 minutes.
To each mason jar, scoop ½ cup of the oat mixture. Top each with one heaped teaspoon of Nutella and one tablespoon of vanilla yoghurt. Screw the mason jars lids on.
Refrigerate at least overnight.
Immediately before serving, slice a strawberry in half and place on top of the yoghurt.
Enjoy!