Principal's Message
Edmund Rice Education Australia Touchstones
Liberating Education
We open hearts and minds, through quality teaching and learning experiences, so that through critical reflection and engagement each person is hope-filled and free to build a better world for all.
Farewell Year 12
This week we farewell our Year 12 students as they complete their formal classes and begin their final preparation for the HSC Examinations. This group of fine young men have continued the strong tradition of excellence in relation to their commitment to achieve their personal best. They have worked closely with their teachers throughout the final stages of their time with us at St Edward's, to ensure they can perform to their potential, and we wish them all the very best in their final exams.
We have watched these young men grow from the twelve-year-old boys who started in Year 7 to become the outstanding young men that they are today. Whenever I am asked the question, what makes St Edward's such a great school, I quickly respond by saying the quality of the fine young men who graduate each year in Year 12 is our greatest measure of success. Academic performance is one important measure of the success of a school, but at St Edward's we strongly believe that it is only one indicator. More importantly we believe that if we can contribute in some way to the development of young people who have a social conscience, young men who are countercultural in their thinking and are contemplative about their own values and spirituality, and young men who have developed a strong sense of moral purpose who will continue on in life to be good partners, fathers, friends and role models who will contribute positively to society, then we are fulfilling our mission as an Edmund Rice School. The 2023 graduating class certainly epitomise this aspiration.
Class of 2023 – Through the Years
We have marked their farewell with two important celebrations, the Graduation Mass which was held on Wednesday evening and the Academic Awards Assembly which was held today. The Graduating Mass is a highlight of the year where Year 12 parents, carers, family members and teachers come together with graduating students to bless them on their journey beyond St Edward's. Father Vince from Terrigal Parish celebrated this Mass and a highlight again this year was the homily presented by  Kenan Fonseka in response to the Gospel. We are grateful to Father Vince for allowing Kenan to share his thoughts at this time of the Mass.  Kenan's message reinforced for me why I have such great faith in our young people. They have the potential to make the world a much better place. They are thoughtful, reflective, inclusive and passionate about life and are committed to ensuring that their values guide their actions.
Click Here to view the full gallery

40 Images
At the Academic Awards Assembly, which was held today, we acknowledged the academic success of students in Year 12 along with a range of special awards which highlight their contribution to College life. We congratulate the winners of these awards for their hard work and dedication. The winners of the major awards are: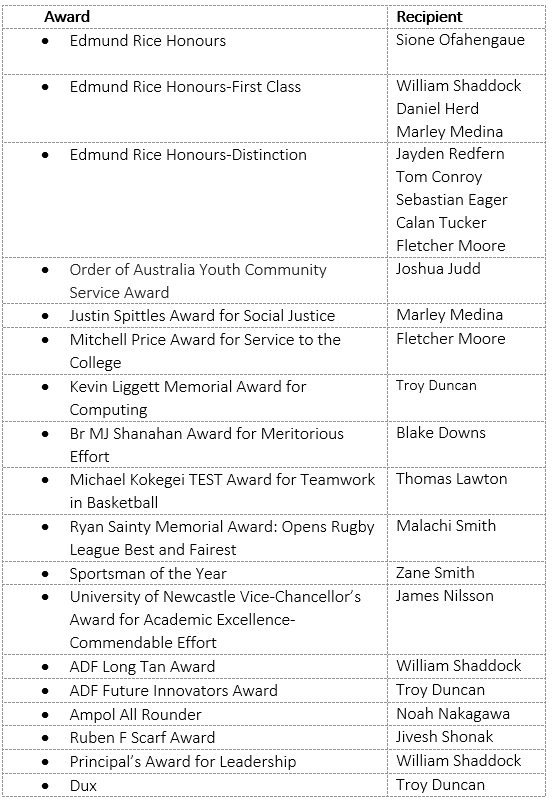 Calls for Expressions of Interest for the St Edward's College Advisory Council
The St Edward's College Advisory Councils work collaboratively with the College Senior Leadership Team in providing strategic advice to support sound stewardship aimed at offering the best possible learning communities young people attending St Edward's College. The College Advisory Council provide rich sources of wisdom and insight as well as a means of strengthening community links.
Current membership of the St Edward's Advisory Council includes representatives with expertise and capacity to provide advice in the legal, financial, building, educational, marketing and faith formation domains of the College. The term of appointment of some of the current members will come to an end at the end of 2023 school year. I therefore call from expressions of interest from members of the St Edward's wider community who may be interested in joining this wonderfully supportive team. Further information regarding the function of the Advisory Council can be obtained from the Charter of EREA School Advisory Councils.
Membership of this Council is not limited to members of the community with a direct relationship to the College and families are encouraged to share this information with friends and extended family members who they believe may be able to contribute to this important group.
Expressions of interest can be forwarded to the College via completing the form available at the following link: Expression of Interest Form – College Advisory Council

Scholarship Bequest 2024/25 – Open to Current Year 8 and Year 10 Students
Through the generosity of various College stakeholders, the College is able to offer the Catholic Women's League part scholarship to current Year 10 students and the Judy Skeahan, St Vincent de Paul part scholarship to current Year 8 students, which will contribute to the costs of schooling for the subsequent two years at St Edward's.  Applications for these are currently being accepted from current Year 8 and Year 10 students.  Please click here to visit the College website for more information.

End of Term Message
I would like to congratulate and thank students who have applied themselves to so many of the academic, spiritual, social justice and extra-curricular activities throughout the term. The Term 3 Interim Reports for Year 7-10 are now available on the College Portal and provide important feedback to students and families in relation to the newly developed College Learner Profile. I encourage students to take time to reflect on the information provided in these reports to assist them in establishing learning goals for the remainder of the year. Year 11 students will receive their Preliminary Report early in Term 4.
The holiday break provides a good opportunity to relax and reflect on the year and to re-energise for the term ahead. I wish all students and their families a safe and happy holiday. Term 4 classes will commence on Monday October 9.