Principal's Message
Edmund Rice Education Australia Touchstones
Liberating Education
As a Catholic School in the Edmund Rice tradition, we encourage all members of the school community to work to the

best of their ability, to become the person that each is created to be and to strive for equity and excellence.

Welcome to the Start of the Year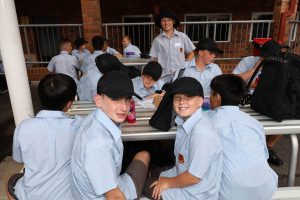 I welcome all students and families to the start of the 2023 school year. We welcomed a new cohort of Year 7 students to the College and it has been great to see how well they have already begun the transition to high school. We have an exciting year ahead, with a number of initiatives that have been in the planning stage to be implemented this year as we continue our school improvement journey.
An important initiative that we will launch next week with our boys is the new Learner Profile which provides clear guidance to our boys regarding their learning. The Learner Profile reflects contemporary dispositions which are designed to encourage students to take responsibility for their learning. Teachers will work with students on establishing goals in alignment with the Learner Profile and we will report to parents and students their progress in relation to these skills. The Learner Profile also articulates the values that we promote at St Edward's in relation to student learning and are an extension of our College Aspiration Statement.
Aspiration Statement
St Edward's College aspires to provide students with a liberating education that empowers them to build a better world for all.

St Edward's College is a faith-filled community. We are committed to growth and strive for equity and excellence.

St Edward's College promotes a safe and inclusive learning community, committed to fostering right relationships and the well-being of students and staff.

St Edward's College inspires students to be compassionate, curious, respectful and autonomous learners.

St Edward's College students demonstrate resilience, discipline and perseverance on their learning journey.
The Learner Profile is now available on the College website at: Learner Profile

2022 HSC Results
I would like to congratulate the 2022 Graduating Class on their wonderful HSC results.  Congratulations to our boys who achieved results which placed them on the NESA Distinguished Achievers list. A special mention to Jack Jamieson whose result of 96 in the Construction Examination, placed him as the fifth ranked student across the entire state. A number of students were also nominated for their major works to be exhibited in the Visual Arts and Multi-Media.
Well done to all our students, teachers and support staff for their hard work and achievements.
Distinguished Achievers
Subjects
Owen Bradstreet
English Extension 1
Ethan Cleverly
Construction Examination
Fergus Clydesdale
Notional Band 6
Oliver Debus
Music 1
Jacques Engelbrecht
Investigating Science
Ronan Grattan
English Extension 1
Industrial Technology
Music 1
Nicholas Green
Food Technology
PDHPE
Lucus Hautrive
Entertainment Industry Examination
Ilya Ivashov
Engineering Studies
Jack Jamieson
Industrial Technology
Construction Examination
Daniel McLoughlin
Industrial Technology
Francis O'Connell
Hospitality Examination (Kitchen Operations/Cookery)
Mitchell Pink
Industrial Technology
Luke Richards
Music 1
Joel Shereb
Construction Examination
Connor Spokes
Industrial Technician
Mark Sweeney
Notional Band 6
Patrick Ward
Music 1
Parent Information Sessions
Information sessions have been scheduled for parents of students in Years 7 to 11, to provide parents with valuable  information on a number of topics associated with College procedures. Topics covered at these meetings relate to pastoral care and student well-being, student learning and the Learner Profile, curriculum matters, cyber safety and responsible use of personal devices, student attendance, assessment and careers education for Year 10 and 11. The Year 7 information session is specifically designed to welcome Year 7 families to our community, with an opportunity to meet with Core Teachers. Further information will be emailed to parents in the lead up to each session. The dates for these meetings are:
Year 7 – Thursday 16 February
Year 8 – Thursday 23 February
Year 9 – Thursday 2 March
Year 10 – Thursday 9 February
Year 11 –  (Held last week)

Science Lab Refurbishment
Work commenced over the holiday break on the refurbishment of two of our older Science laboratories. A great deal of research and thought has gone into planning these specialist teaching areas which are due for completion in late April. The rooms have been designed to support a contemporary approach to teaching in this Key Learning Area and includes a designated senior area for students studying Extension Science at the HSC level. I look forward to sharing updates on the progress of this project.
Premier's Back to School Vouchers
The NSW Premier announced the continuation of the back-to-school vouchers that are available to parents to assist with educational expenses at the start of the year. Information can be obtained regarding this scheme from the following link:   Apply for Premier's Back to School NSW Vouchers | Service NSW



New Members of Staff
We welcomed two new permanent staff members to our staff in 2023. It is with great pleasure that I introduce them to the community, and we wish them well for the exciting years that lie ahead.