Principal's Message
Edmund Rice Education Australia Touchstone
Liberating Education
As a Catholic School in the Edmund Rice tradition, we are actively involved in developing global partnerships through participation in Edmund Rice Education Beyond Borders;
Continued Partnership with Edmund Rice Ministries in Kenya
The COVID-19 pandemic has prevented members of the St Edward's community from participating in the annual immersion program to Nairobi, Kenya. Although this has been very disappointing, we have maintained a connection with the Mary Rice Centre and the Edmund Rice Advocacy team that work in the Kibera slum in Nairobi. The Mary Rice Centre is a wonderful organisation which provides access to education and life skills training for approximately sixty students with disabilities from the Kibera slum. St Edward's has supported the Mary Rice Centre for several years providing physiotherapy equipment, water tanks, computers and on our last visit a classroom which members of the immersion group assisted in building.
The second ministry that St Edward's supports is the Edmund Rice Advocacy team. This small team of paid staff and volunteers works with young women from the slum who are victims of sexual abuse. They provide refuge, food, clothing and legal support to assist these young women who at times are locked into a vicious cycle of abuse.
St Edward's has donated fifteen thousand dollars through proceeds raised at our Founders Day celebration in Term 3, to be shared between these two organisations. In speaking with representatives from these two organisations over the last two weeks they are extremely grateful for the support and have asked me to pass on their deepest gratitude to our community.
We hope to recommence our annual immersion to Kenya in 2024.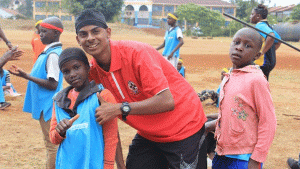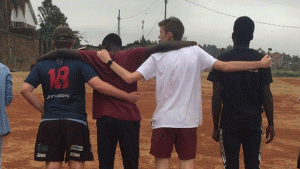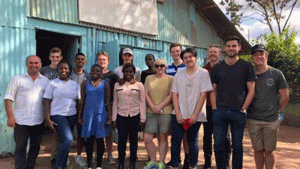 Commitment to Environmental Education.
"Due to an ill-considered exploitation of nature, humanity runs the risk of destroying it and becoming in turn a victim of this degradation."
This quote, taken from Pope Francis' encyclical Laudato si,' written in 2015, challenges us to take greater responsibility in caring for our environment. This message remains true today and as a community we have taken up this challenge providing a range of learning experiences both within and outside St Edward's classrooms to promote environmental sustainability. The work promoted by the College Environmental Portfolio through initiatives such as Trash Free Tuesday, Take 3 for the Sea and our recycling program are supported through a variety of classroom learning experiences.
One such experience is an assessment task completed by Year 10 students in Religious Education. Students were asked to develop a promotional piece on an environmental issue. The task provided a wonderful opportunity for students to widen their knowledge on a global environmental issue. Students' application to this task provided great evidence of their commitment to raising awareness about global environmental issues so that we can continue to promote a better world for all.
An example of their work can be viewed via the following link.
Professional Excellence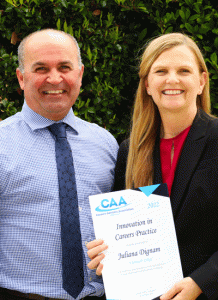 I would like to congratulate Mrs Juliana Dignam, Leader of Careers/VET, for recently receiving an award for Innovation in Careers Practice from the Careers Advisor Association NSW & ACT. This award recognises Juliana's excellence and innovation in the promotion of Careers Education. Juliana brings a wealth of knowledge and understanding of the range of pathways for our boys to life beyond St Edward's. Her connections with community, Universities, TAFE and employment agencies combined with her passion for continually finding new ways of supporting the career opportunities for our boys is something that we are truly grateful for.
We congratulate Juliana on this well-deserved award.
Parent Consultation Meetings
The first of our Parent Consultation meetings will be held on Wednesday November 9. Parents are still able to register for either the morning or evening sessions. The topics to be discussed at this meeting are the College Anti-Bullying Policy and the revamped Learning Profiles. Parents who would like to register can do so via the following link. Parent Consultation Meetings RSVP
Scholarship Bequest 2023/24 – Open to Year 8 and Year 10 students
Through the generosity of various College stakeholders, the College is able to offer the Catholic Women's League part scholarship to current Year 10 students and the Judy Skeahan, St Vincent de Paul part scholarship to current Year 8 students, which will contribute to the costs of schooling for the subsequent two years at St Edward's. Applications for these are currently being accepted from current Year 8 and Year 10 students.  Please click here to visit the College website for more information. Applications close on Monday 7 November.