Principal's Message
Edmund Rice Education Australia Touchstones
Liberating Education
A Catholic school in the Edmund Rice tradition, we provide an holistic education integrating faith with culture and learning, while instilling an appreciation of the need to strive for the greater good of all society
As a boys' only College, there is a significant focus within our work on growing boys into quality young men.  In this regard I have long respected the work of Arne Rubinstein, who writes extensively on the transition of young people successfully making a safe, healthy transition into adulthood – especially boys.
In his book Making of Men, Arne identified seven clear differences between what he sees as Boy vs Healthy Man psychology.
| | |
| --- | --- |
| Boy Psychology | Healthy Man Psychology |
| I seek acknowledgement | I seek that which I believe in |
| I want it all for me | I share with my community |
| Power is for my benefit | Power is for the good of all |
| I am the centre of the universe | I am just part of the universe |
| I believe I am immortal | I know I am mortal |
| I take no responsibility for my actions | I take full responsibility for my actions |
| I want a mother | Seeks relationship with the feminine |
I have often felt that the media often places too many men who display Boy Psychology, in front of our boys as their role models.  Often our TV screens and social media streams are filled with sports, TV and movies stars, and the most recent addition, Social Media Influencers, who display the qualities listed above for boys.
In the last week there has been media attention on one such Social Media Influencer who has rightly been banned from some platforms for his misogynistic statements – who had seen dramatic increase in his following. Our aim is to nurture the young men of St Edward's to reflect those qualities of healthy man psychology.  For example, they will be men who understand that they have power to make the world a better place not only for themselves but for others – the Waterford Project is a wonderful initiative of the College which allows the boys to live this on an daily basis.
I would also hope that our young men would dismiss the views of misogynistic influencers.  When our boys grow into respectful, independent young men who do not seek anyone to 'look after them' but instead seek relationships with a wide array of people, they become well rounded members of society, who are able to be empathetic, and accepting.  They will see that a society where all are equally valued and welcomed is one that will be much stronger and greater than one built on a singular dominant viewpoint.  It is my hope that a St Edward's boy becomes a young man who is powerful beyond his own comprehension, because he builds up everyone he encounters, instead of diminishing them.
Founders Day
Date:                     Friday 9 September
Donation:             All staff and students donate $20 (payable to Office before day)
Day Outline:         A Day of Activities, and fun – all for a good cause
Dress:                    Mufti
Lunch:                   BBQ Lunch provided
Founder's Day traditionally was conducted every second year, but not in recent years due to COVID restrictions, and has been a part of our St Edward's College tradition since the 1990's.  The purpose has always been to build community among us but also to raise money for worthy and relevant Christian Brothers or Edmund Rice ministries.
In recent years, the fundraising effort has solely focused on the Mary Rice Centre in Nairobi Kenya.  The Centre transforms the lives of many young people with physical and intellectual disabilities and their families living in the Kibera slum of Nairobi.  The Mary Rice Centre is run by Christian Brothers and their co-workers, lay people, combining to provide food, clothing, shelter, education and pastoral needs for many young people and their families.  Education and pastoral care needs are a big focus, to help give that community better hope for their individual and their community's future.
Many former senior students and staff from St Edward's have visited the Mary Rice Centre in previous years, as part of an annual school immersion program.  Quite simply, the Centre could not survive without the support of the money raised and donated by the St Edward's College community.  The College has donated approximately $250,000 in the time it has supported the Centre, with our goal for this year to raise another $20,000.
This aim is more than achievable if all staff and students donate $20 each.
2023 College Prefects
It is with great pleasure that I announce the following students as Prefect Leaders for the 2022/2023 School Year.  This fine group of young men participated in a Leadership Induction Day last week where they developed their vision and mission for the year, and investigated what good leadership looks like in the 21st century and expectations that come with the Prefect Role.   We were also blessed to have 2019 College Captain Rory Mackintosh spend some time with the group speaking about his experiences of juggling leadership responsibilities and the demands of HSC studies.
As always, there was a large group of wonderful young men who nominated and not all boys can be chosen, with many worthy boys missing out on a Prefect position.  We acknowledge they are all considered leaders and will continue their excellent work leading the portfolios.
Congratulations to the following students:
Max Potential
I was privileged to represent the College at the 2022 Max Potential Celebration where the two St Edward's student participants were recognised, Year 11 students Alex Lara and Jonah Wright.
Max Potential is a leadership development program that has been delivered since 2003.  As one of Australia's longest-running youth development programs, Max Potential connects high school students with local community and business leaders who are trained as coaches.  Over five months, participants engage in one-on-one coaching, experiential workshops and deliver a community service pitch that takes an entrepreneurial approach to meeting needs in their local community.
It was inspiring to see the work that all the young people involved had done in preparing and then pitching a community idea. We are fortunate to have such wonderful young leaders in our community.  Well done Alex and Jonah!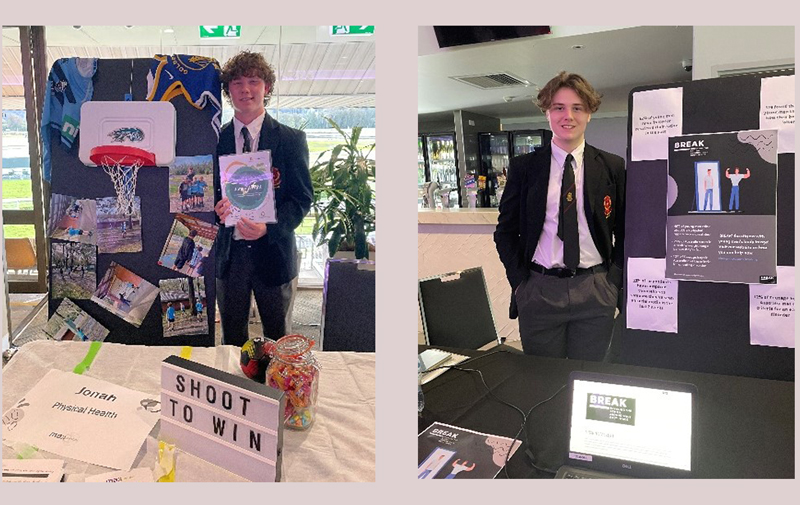 COVID Update
Last week I wrote to all families regarding COVID household and close contacts.  Students and staff who are household or close contacts but have no symptoms may attend school if they adhere to the following guidelines:
Notify the College that they are a household contact but will attend school (notify via the link on the News and Events tab on the College website: COVID and Household contact reporting link)
Conduct a daily RAT and return a negative result each morning for five days.
Wear a mask indoors except when eating or exercising.
No student or staff member identified as a household/close contact will be permitted to participate in overnight excursions, including school camps
For more information on these guidelines, visit this page.
We thank you for your ongoing support of the College's efforts to maintain a safe environment for all College community members.