Principal's Message
Edmund Rice Education Australia Touchstones
Liberating Education
As a Catholic School in the Edmund Rice Tradition, we strive to serve the individual needs of each person, providing teaching and learning experiences that are authentic, relevant, rigorous and creative.
Science Laboratory Refurbishment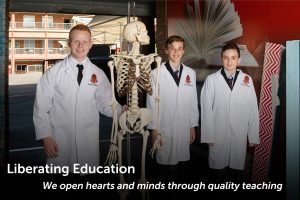 We have commenced planning the next stage of the College Building Master Plan with our next project being the refurbishment of some of our existing Science Laboratories. We have visited schools to obtain ideas and are working with PMDL Architectural firm to design new state-of-the-art laboratories to provide our boys with contemporary learning spaces in this Key Learning Area. We are scheduled to commence work in the Christmas holidays and hope to have stage one of this project completed by the end of Term 1 2023. I look forward to providing families with some visual materials and photographs of the work later in the year.
Professional Renewal Leave
In Term 3 the College will welcome Mr Cameron Alexander to the role of Acting Principal while I am on Professional Renewal Leave. Mr Alexander is an experienced leader who is currently working at Christian Brothers College in Adelaide. Mr Alexander will provide wonderful support to students, teachers and families throughout this time and I am sure that our community will make him feel very welcome.
Year 12 HSC Trial Examinations
Year 12 students will be sitting their Trial HSC Examinations from Monday August 1 until Monday August 15. These examinations contribute significantly to the final Higher School Certificate Assessment mark that is submitted to the NSW Education Standards Authority. All Year 12 students are encouraged to use the upcoming term break wisely to best prepare themselves for these examinations. I would like to wish all of Year 12 the very best of luck in these examinations.
Parents who would like some information on how to assist their sons in preparation for examinations are encouraged to visit the Independent Learning – Online Study Skills Handbook on: https://www.stedwards.nsw.edu.au/curriculum-learning/independent-learning/
Term 3 Pupil Free Day – Monday July 18: Edmund Rice Education Eastern Region Networking Day
St Edward's teaching staff will be participating in an Edmund Rice Education Eastern Region Networking Day on Monday July 18, the first day of Term 3. Members of staff in each faculty will be meeting with teachers from EREA schools across four different campuses, to share best practice in teaching and learning. It is planned that this day will occur biannually, providing an excellent opportunity for teachers to not only showcase the excellent teaching practice at St Edward's but to learn new and innovative ways of engaging our boys in their learning. Term 3 will therefore commence for all students on Tuesday July 19.
Have a Safe and Relaxing Holiday Break
I wish all our boys and their families a safe, relaxing and enjoyable mid-year break. The two weeks holiday will hopefully provide our young men with time to recharge their batteries, reflect on their achievements in the first half of the year and prepare for Term 3.