Principal's Message
Edmund Rice Education Australia Touchstones
Inclusive Community
As a Catholic school in the Edmund Rice tradition, we acknowledge the service and contribution of the Christian Brothers, teachers and support staff who work in partnership with Edmund Rice Ministries in furthering the Charism of Edmund Rice within our school.
Founders Day Mass
Father Brian Moloney will join us on Friday April 6 to celebrate the Eucharist in commemoration of Blessed Edmund Rice Founders Day. At this celebration, we acknowledge that we are very fortunate to be members of a wonderfully supportive and caring community. A community that promotes the touchstones of inclusivity, justice and solidarity. These touchstones draw on the Gospel values, which guided our founder, Blessed Edmund Rice to give up all he had in the pursuit of providing a liberating education and care to serve those at the margins in Waterford, Ireland.
Students are encouraged to continue to challenge themselves to be the best they can be in living up to the values that we hold so deeply at St Edward's – service, compassion, inclusivity, peace, justice and solidarity with those at the margins.  For it is being strong and steadfast in the pursuit of these values that we remain true to the rich traditions of our founder Blessed Edmund Rice and the many Christian Brothers, staff and students that have gone before us.
Founders Day is a special day for St Edward's as we celebrate the service of teachers and support staff who have significantly contributed to the rich fabric and flourishing culture which was begun by the Christian Brothers. We take time at our celebration to acknowledge the wonderful work of staff who have reached certain milestones in terms of years of service to the College at this celebration.  We congratulate and thank the following staff for their contribution to the culture, education and care of students during your time at the College.
10 Years of Service
(William Moore Absent for Photos)
15 Years of Service
20 Years of Service
25 Years of Service
Anzac Day Commemorations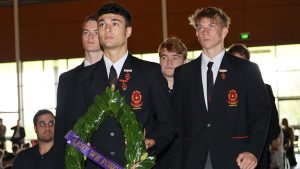 On Tuesday April 26 we commemorated Anzac Day as a community through two significant events. The morning began with a moving ceremony in the Edmund Rice Centre which was attended by all staff and students. Throughout the day students in Years 7-10 participated in a one-hour presentation in the College theatre which acknowledged Aboriginal and Torres Strait Islander service men and women.
I would like to thank Mr Alex Rozario who was instrumental in organising these memorable events for our staff and students.

Mother's Day
I would like to wish all mothers of students at the College a very happy Mother's Day for this coming Sunday. A special bond exists between mothers and sons. You protect him and show him how to love, happily watching him with pride grow into a promising young man. The love, care and support that you provide your son each day, helps foster in him a respect for others in a way that no-one else is able to do and for this he will be eternally grateful. I hope your day is filled with great love and happiness.



NAPLAN
The National Assessment Program – Literacy and Numeracy (NAPLAN) is an annual assessment for students in Years 7 and 9 and will be conducted online commencing Tuesday May 10 and conclude on Friday May 13.
The results from NAPLAN provide us with valuable information about areas to be prioritised for improvement, students requiring additional support and extension in the teaching and learning of literacy and numeracy. The results can assist teachers by providing additional information to support their professional judgement about students' levels of literacy and numeracy attainment and progress.
NAPLAN tests are one aspect of each school's assessment and reporting process and do not replace the extensive, ongoing assessments made by teachers about each student's performance. Each teacher will have the best insight into their students' educational progress. Parents/carers can use NAPLAN reports, along with other school assessment reports, to discuss their child's strengths and areas for improvement with their teacher.
NAPLAN is made up of tests in the four areas (or 'domains') of:
reading
writing
language conventions (spelling, grammar and punctuation)
numeracy