Principal's Message
Edmund Rice Education Australia Touchstones
Inclusive Community
Our community is accepting and welcoming, fostering right relationships and committed to the common good
Year 7 Information Night
It was wonderful to be able to invite our new Year 7 families to an information evening on Wednesday March 30. The purpose of the evening was to welcome families to our community and provide them with information regarding the educational program offered at St Edward's. The evening commenced with a smoking ceremony conducted by Tim Selwyn, a local Aboriginal man and owner/operator of Girra Girra Aboriginal Experiences. Throughout the ceremony, Tim sang in language and explained the significance of a smoking ceremony to welcome visitors to the land upon which the College is situated.
We are pleased to be able to invite families onsite once again for a range of activities and information sessions. We anticipate that some online sessions will continue but are well-aware of the importance of striking a balance between conducting sessions online and parents attending face-to-face sessions.  Attending the College for meetings is an important way in which we can continue to maintain a sense of community. In a letter which was sent earlier in the week, parents were invited to complete a survey indicating topics that they would like Parent Forums on, that would be helpful in assisting their son(s) navigate through school and adolescence. I have included this link in case any families may have not yet read this correspondence. Survey Link | Parent Forums 2022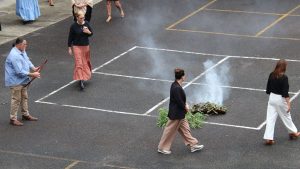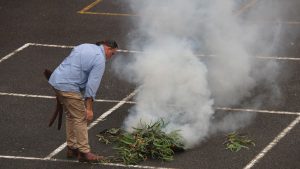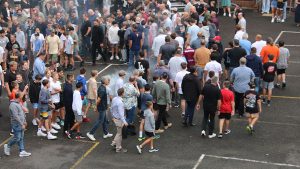 Winter Uniform
Families are reminded that at the commencement of Term 2, all students are required to wear their full winter school uniform Monday to Thursday, consisting of the College blazer, College shirt, long pants and tie. The College tracksuit is to be worn on Friday by students in Years 7-10 while our senior students continue to wear their winter uniform. Parents and students are reminded that skate shoes are not considered appropriate sporting shoes and are not to be worn in PE lessons or on Friday. Students are not permitted to wear their College tracksuit top or any other non-school jumper with their winter uniform, only the College jumper or College Blazer are to be worn. Information regarding the opening hours of our uniform supplier, Cowan and Lewis at West Gosford can be found on their website Cowan and Lewis.
End of Term Message
Term 1 has once again been a very busy start to the year. I would like to congratulate and thank students who have applied themselves to so many of the academic, spiritual, social justice and extra-curricular activities throughout the term. The holiday break provides a good opportunity to relax and reflect on the start to the year and to re-energise for the term ahead. I wish all students and their families a safe and happy holiday.
Term 2 will commence on Tuesday April 26 following ANZAC Day, with all classes scheduled as per normal. This day is not a Staff Development Day and all students are expected to be in attendance.
2023 Enrolments
The College is now accepting enrolment applications for Year 7 2023. The enrolment process is completed online via the College website at: https://www.stedwards.nsw.edu.au/enrolment/
The enrolment information clearly outlines the enrolment criteria. Applications received after Tuesday April 26, will be processed as late applications. Current families who are aware of family or friends who wish to apply for their son to attend St Edward's, are asked to encourage them to visit the College website for information about the College and the process of enrolment.