Principal's Message
Edmund Rice Education Australia Touchstones
Inclusive Community
As an Edmund Rice Community, we are accepting and welcoming, fostering right relationships and

committed to the common good.
Respect and Wellbeing Education
We are provided with great guidance through the Charter for Edmund Rice schools on the values associated with inclusivity and right relationships and it is important that our school community is accepting, welcoming and fostering respectful relationships in which students, teachers and support staff feel safe, valued and cared for. An important role of our school is to ensure that our young men establish a deep understanding of the role they play in developing a society which upholds these values. A society which does not tolerate discrimination on the basis of gender, religion, race, culture or sexual orientation.
The learning experiences offered to our young men in the classroom and our retreat and liturgical programs, provides them with an opportunity to develop their own values in relation to respect and wellbeing, supporting the values which are also important in the homes of the families within our community. Throughout all areas of the curriculum, but particularly in the areas of Religious Education, PDHPE and the College Retreat Program, students explore topics such as gender equity, consent, domestic violence, harassment and discrimination. We are in the process of establishing a Respect and Wellbeing Framework, which clearly articulates our commitment to this important work with our young men across many areas of the school.
Listening to the voice of our young people is a critical component in the development of our approach to the learning experiences offered in this domain. Our Year 12 Prefects recently invited the St Joseph Year 12 Prefects to a breakfast meeting to explore the topics of respectful relationships and to provide advice to teachers on how we can best engage our students on topics such as consent, gender equity, sexual harassment and discrimination. It was inspiring to listen to the deep thought, understanding and maturity in these discussions. These young leaders were able to clearly articulate their own views, providing great examples of how both St Edward's and St Joseph's can work individually and collectively to foster in our young people the values associated with acting respectfully and caring for the wellbeing of others. Prefects from both schools will present a summary of their thoughts to staff at both schools at the commencement of Term 3 and their ideas will influence the approach of both schools into the future.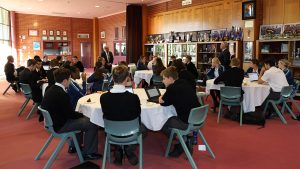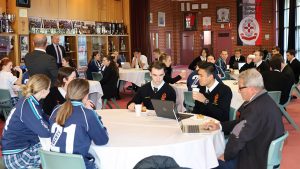 Semester 1 Reports
Students in Years 7-10 will have their Semester 1 reports uploaded to the student portal at the end of this week. These reports will provide each student with feedback on their progress in each subject for the first two terms. Included in this report is a grade that reflects their achievement in assessment, an indication of their level of achievement of outcomes in each course, a teacher comment and feedback on their application and effort in relation to the College Code for Learning.  A key component of our College Aspiration Statement encourages our young men to develop greater responsibility, curiosity and autonomy in relation to their learning. They are encouraged to develop learning goals, celebrate the areas in which they are achieving, but importantly identify areas in which they can continue to work at improving seeking feedback from their teachers and parents. This report and the recent student teacher and parent learning conferences are designed to assist students in this process. I encourage all parents to engage in a conversation with their son(s), regarding the feedback contained in this report. Parents will be provided with another opportunity to discuss with teachers their son's progress at the Learning Conferences scheduled on Wednesday August 11 and Thursday August 19.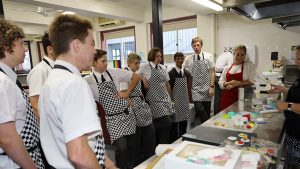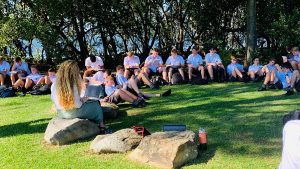 Year 12 HSC Trial Examinations
Year 12 students will be sitting their Trial HSC Examinations from Monday July 26 until Monday August 9. These examinations contribute significantly to the final Higher School Certificate Assessment mark that is submitted to the NSW Education Standards Authority. All Year 12 students are encouraged to use the upcoming term break wisely to best prepare themselves for these examinations. I would like to wish all of Year 12 the very best of luck in these examinations.
Parents who would like some information on how to assist their son in preparation for examinations are encouraged to visit the Independent Learning – Online Study Skills Handbook on: https://www.stedwards.nsw.edu.au/curriculum-learning/independent-learning/
Have a Safe and Relaxing Holiday Break
I wish all our boys and their families a safe, relaxing and enjoyable mid-year break. The two weeks holiday will hopefully provide our young men with time to recharge their batteries, reflect on their achievements in the first half of the year and prepare for Term 3.