Principal's Message
Edmund Rice Education Australia Touchstone
Liberating Education
As a Catholic School in the Edmund Rice tradition, we aim to serve the individual needs of each person, providing teaching and learning experiences that are authentic, relevant, rigorous and creative.
College Building Master Plan
It is with great pleasure that I launch the St Edward's College Building Master Plan. This master plan is the culmination of an extensive consultation process, gathering ideas from many members of the College community including staff, students, Board members and parents. The Building Master Plan is an aspirational document that establishes a plan for the types of academic and cocurricular spaces, buildings and contemporary facilities that will assist us in providing the best quality education for the boys in our care now and into the future. The plan is underpinned by a vision of a holistic education, which challenges nurtures and inspires young men to be the best they can be. The College is in the process of gathering feedback to inform the next stage of our Strategic Plan. The implementation of the Building Master Plan will be a key component in our ongoing goal setting in relation to the provision of quality teaching and learning experiences. Learning experiences which are aligned to the College's Aspiration Statement that appears below. This statement clearly articulates our vision for learning at St Edward's.
St Edward's College Aspiration Statement
St Edward's College aspires to provide students with a liberating education that empowers them to build a better world for all.
St Edward's College is a faith-filled, community. We are committed to growth and strive for equity and excellence.
St Edward's College promotes a safe and inclusive learning community, committed to fostering right relationships and the well-being of students and staff.
St Edward's College inspires students to be compassionate, curious, respectful and autonomous learners.
St Edward's College students demonstrate resilience, discipline and perseverance on their learning journey.
Click the image below to view the Building Master Plan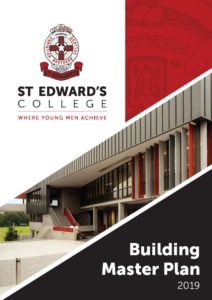 Year 11 Max Potential
A Catholic School in the Edmund Rice tradition challenges all members of the school community to prophetic leadership within the school community and beyond.
St Edward's College responds to the challenge of developing student leadership through the community service program the Waterford Project. As all students and families are aware, this program encourages students to look beyond themselves through acting selflessly in the service of others in need within the local community. Another excellent opportunity is provided to our Year 11 students each year through an invitation to participate in the Max Potential program.
The Max Potential program is an initiative of Clubs NSW and offers twenty-two weeks of personal leadership development including coaching to young leaders from schools, TAFE, University and the community to help them maximise their potential during the final years at school and beyond. Max Potential also encourages students to focus on the local community and ways they can work to improve it.  Gosford RSL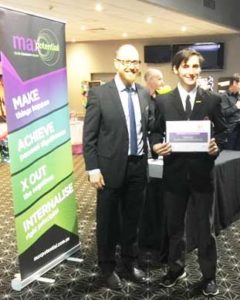 Club has been successfully facilitating the program in the Gosford City local government area since 2008 providing young people with an opportunity to impact on others and their region through a community project supported by local community leaders and networks.
St Edward's College has been proud supporters of the Max Potential program since its inception with Year 11 students participating each year. This year, two Year 11 students participated in the program and their personal leadership outcomes were publicly celebrated at the final "Showcase" on Thursday August 22. The Year 11 students who participated this year were Jackson Robb and Samuel Dewey. Below is a brief summary written by Jackson about his experience.
This year I was fortunate enough to be involved in the Max Potential program at the Gosford RSL club. This program was offered to all of Year 10 in 2018 and continued until August of 2019. The program offers for students all over the coast to participate in a community service based project and to implement a change in the lives of others. To assist you with your project, you are assigned a coach at the beginning of the program who guides you and leads you in the right direction based on what you wish to accomplish. My coach, Kevin, was vital to my successes with the program and many thanks for his efforts. However this isn't the only aspect to the program. The introduction to the program focuses on you and your goals you wish to achieve regarding friends, family and schooling aspirations. This encourages you to reflect upon your life and the direction you want to take in the years that follow. The program helps with developing good leadership skills and provides direction for the future outside Max Potential.
I decided to join the program to further my leadership skills and help out in the community in whatever way I could. I was surprised to find that the program assisted with personal goals and not only did it help me with organisational skills and good qualities in a leader but gave me clarity and perspective for how I wanted to handle Year 11 and what I wanted to achieve. The journey was difficult and required effort and time to arrange meetings with my coach and finish all the requirements. I overcame many obstacles and, in doing so, discovered how important time management is when dealing with deadlines and businesses but the overall ending was worth it. I was fortunate enough to partner with Coast Shelter and their marketing team and create a community service project that educates and informs the public about homelessness; an issue that is rapidly increasing on the coast and in need of attention.
I am very thankful for the opportunity and all the benefits that have come with it. Max Potential has helped me re-establish my passion for social justice and encouraged good habits for schooling and life in general. Through setting goals, I was able to achieve advancements in my work, school and home life with many of my personal goals being reached. Without Max Potential, I wouldn't have been able to establish these connections and make new ones with the other participants of the program. I strongly encourage students in Year 10 to apply for the program if they have a passion for making a difference.
Central Coast Junior Lifesaver of the Year Award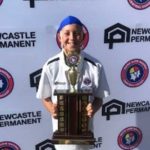 Congratulations to Jayden Redfern in Year 8 who was recently awarded the Central Coast Junior Lifesaver of the Year. Jayden was selected through a rigorous nomination process which included extensive commitment to lifesaving responsibilities, community service and an interview. We are very proud of Jayden and all the other young men at the College who work tirelessly in support of their local surf club in keeping our beaches safe.
African Women for Women
I would like to remind all members of our community of the support we will be providing women and young girls living in the Kibera slum in Nairobi, Kenya. After consultation with Sister Leonida (the leader Women for Women organisation in Kenya) we are collecting new women's and girls' underwear to take with us on this year's immersion. There is a desperate need for these items as many women and girls living in this impoverished area have only one or sometimes no clean underwear. Our wonderful library staff will be collecting these items from families wishing to donate. Your support of this initiative is greatly appreciated.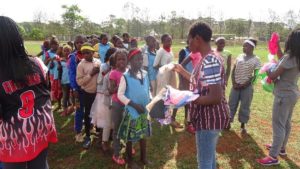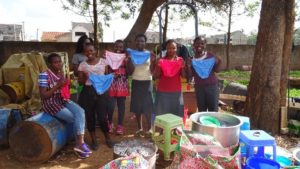 Class of 1994 Reunion
The Year 10 Graduation class of 1994 is holding a 25-year reunion on Sunday September 22. The reunion will begin with a tour of the College, followed by a function at the Boatshed at Gosford Sailing Club. Ticket sales will close on Sunday September 1. Further details regarding the event are available on the St Edward's College Old Boys' Union Facebook page or the College website.