Principal's Message
Edmund Rice Education Australia Touchstones
Gospel Spirituality
We invite people into the story of Jesus and strive to make his message of compassion, justice and peace a living reality within our community.
We gathered as a community on Tuesday February 11 to celebrate the Commencement Mass to begin the school year. We thank Father Greg and Deacon Paul, for joining us in this celebration. This important event provides the opportunity for us to unite in prayer for the year ahead, asking the Lord for guidance, courage and resilience in the pursuit of our own goals as individuals and as a community. The Commencement Mass was a celebration of our commitment as a Christian learning community to challenge ourselves to be the best we can be.
In order to develop our own understanding of what this commitment could mean, it is important that we gain a true sense of what we value to be important as a community. It is through understanding our communal values that we can challenge ourselves to be the best versions of ourselves.
The Touchstones for Edmund Rice Schools guide us in this commitment. They lay the foundation based on the Gospel messages around inclusivity, justice, solidarity and a liberating education that opens our eyes to those around us.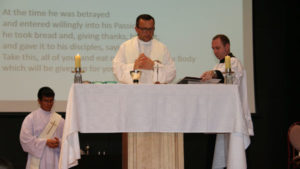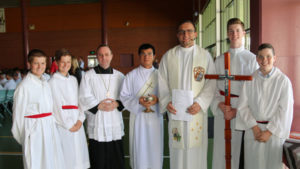 So, what do we value and what do we aspire to achieve as a community?
We aspire to be a community committed to living and learning about how we can make a difference in our world and create a better world for all.  We are a faith filled community, committed to our own personal growth, our sense of spirituality, equality and our relationship with God. We are an inclusive community that is welcoming of all people and a community that builds respectful relationships and cares for each other. We are a community that understands the importance and value of learning and are grateful for the opportunities that we are provided with for personal growth. We are a community that cares for our environment and are understanding of our responsibility in ensuring that we act justly and kindly.
All members of the community were encouraged to reflect on how they plan to challenge themselves to live up to these aspirations and values. They were asked:
What will we do this year to rise to this challenge and work towards being the best version of ourselves? How will we plan to commit to our learning? What learning goals will we set and how will we work together towards achieving these goals? What will we do this year that demonstrates a clear willingness to be accepting of others even though they may be different to us? How will we challenge ourselves to act in kindness, with respect and humility in the promotion of justice, especially for those that are not as lucky as ourselves? What will we do in self-reflection about our own spirituality and commitment to action, based on the values of Jesus? What will we do to take care of those around us, our family, friends and loved ones when things might get tough? Finally, what will we do to make sure that we are caring for our environment?
How we individually, honestly answer these questions, demonstrates our true intentions of challenging ourselves to be the best we can be.
Students were encouraged to feel comforted in knowing that their teachers and support staff will support them and care for them along the way. We will challenge them, encourage them to try, even if they make mistakes, because making mistakes is often how true learning takes place. We will not accept complacency or the attitude that just okay is good enough. We will encourage them to set high expectations of themselves and we will assist them in meeting their goals.
I am very proud each week to witness the wonderful things we do as a community that lives up to these values and I look forward once again this year to see how we bring these values to life.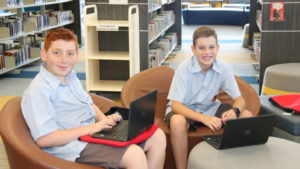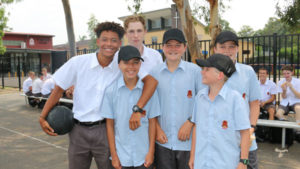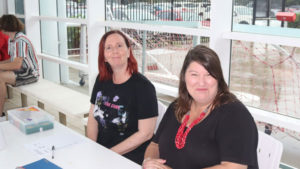 School Closure Due to the Storms on Monday February 10
Thank you to all our families for your understanding regarding the need to close the College on Monday February 10. With the uncertainty regarding the power outage, we made the decision on Sunday evening in conjunction with St Joseph's College, to provide plenty of advanced notice of the closure. We were pleased that contingency plans that had been developed regarding communication in situations of loss of power at the College worked effectively allowing us to notify families through a range of mediums including Facebook, email, SMS and the College App.
I ask all members of the St Edward's community to keep in our thoughts and prayers the families of students at the College who have suffered extensive damage to their family homes as a result of the storms. If you are a family in need of assistance, or you know of a family in need of assistance please do not hesitate to contact me to see if there are ways in which we can help.
High Achievers Assembly
On Friday February 14, we invited young men from the 2019 Year 12 class to an assembly to celebrate their Band 6 results in a variety of HSC subjects. Throughout the HSC years, these young men worked hard to develop their knowledge and skills, and with the support of their wonderful teachers they were able to realise great things.
The very pleasing aspect of their achievements is that they were able to achieve great results across a broad range of academic and skill-based disciplines including Mathematics, Science, Business Studies, Industrial Technology, Music, Entertainment, Construction, Information Technology, and Studies of Religion. Their results have created great opportunities for them for the future with many pursuing career pathways closely aligned with the subjects in which they excelled.
It is important to also acknowledge the many other students from last year's cohort, who achieved great personal growth in many of their subjects even though they may not have received marks in the top bands. We are fortunate each year to be provided with a detailed analysis of our results which is developed by Catholic Schools NSW. This feedback is provided in the form of learning growth for each student, each subject and the cohort in its entirety. I am extremely happy to report that the trends in this analysis continue to show good improvement in academic performance each year.
Where it is important to celebrate with the highest achievers, it is equally important to acknowledge the great success achieved by all students. Students are constantly reminded that striving to do their best in all endeavours is the most important value at St Edward's. Students are achieving great success in many ways. More and more students are entering university or TAFE Courses and many more students are being offered apprenticeships and employment linked to the trade courses that they have completed as part of the College's Vocational Education and Training Program.
Click Here to view the full gallery

19 Images