Premier's Reading Challenge
Congratulations to Matthew Kirkland in Year 10 who has received the Premier's Reading Challenge Medal in honour of his commitment to completing the Premier's Reading Challenge.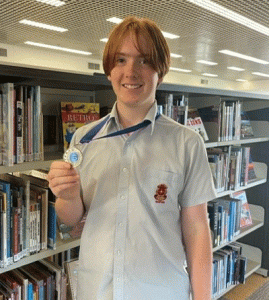 Matthew has completed the Premier's Reading Challenge consecutively since kindergarten and we congratulate him for his ongoing commitment to reading over the past 10 years.
What an outstanding achievement!  Matthew was asked what some of his favourites have been throughout the years… He was quick to reply that the Harry Potter series by J K Rowling was one of his favourites along with Animal Farm by George Orwell and he mentioned in early primary school, he enjoyed reading Graeme Base books like The Waterhole.
Matthew received both a medal and a letter from Premier Perrottet, and the following excerpt was taken from his letter:
The competition encourages students to read widely and to develop lifelong reading habits. Reading can offer opportunities to explore the world around us and to imagine new possibilities. It allows us to gain new perspectives and insights into ourselves and the world.
The Premier's Reading Challenge is now open! If you would like to participate, see the library staff.