Christian Rose – Order of Australia Commendation Medal
Christian Rose in Year 12, has recently been awarded the Order of Australia Commendation Medal by the Governor of NSW. Twenty young people across NSW will receive this award.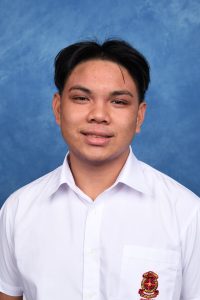 Christian Rose is an outstanding young man, who exemplifies the virtues of service, compassion and peace.  He has been a student at St Edward's College for six years and is highly respected by teachers and his peers.
Christian's commitment to social justice and community is commendable. He is a Life Member and Youth Committee representative for Central Coast Ugnay Kabayan group (United People Inc) since 2012. Christian supports programs which aim to deal with issues such as low-cost accommodation, anti-domestic violence advocacy support especially for women and youth. His contributions include providing technical assistance, participation at cultural festivals and promoting future events. His support has been invaluable for people settling into a new life in Australia. His commitment has been focused and consistent throughout.
Christian has also been actively involved as a Basketball Coach in his Central Coast community since 2018 and mentoring young people, especially new players at a personal and skills level. This group is called the Higgins Crew. He has also been a voluntary event and sports photographer at many community events.
Christian is a leader. He was a student leader at the school immersion experience to Walgett in 2021. His compassion and clear understanding of the issues facing Aboriginal people was noted by others on many occasions. He also chose to participate strongly in the 2 billion Km's to Safety Advocacy and fundraising program over the past few years.
Christian's compassionate, gentle nature, his creative skills, and his passion for helping others have been a feature of the past six years. He is always looking to do more and to be more for others.