Open Rugby League
Open Rugby League
On Friday 11 May the Open Rugby League team travelled to Smith Park, East Hills to contest the regional qualifier for the NSWCCC Cup.
An early start, very cold conditions, peak hour traffic and hungry students saw us battle our first hurdle of the day getting to the oval. Once there we prepared to play four 20 min games.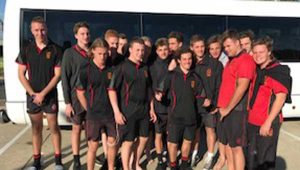 We lost our first game 12-6 to Patrician Brothers, Fairfield. The team certainly had their chances and were probably guilty of trying too hard at times. Some minor adjustments and general discussion about our direction saw the team start well and build momentum from there, winning 16-6 against De La Salle Revesby. Our third game saw a continuation of this dominance with the team winning comfortably 22-1. The highlight from this game not only being the try from Boston Passeri and his sideline conversion but the field goal from the De La Salle player, 45 m out and trailing 18-0 at the time.
Our final game was against the very big Loyola Senior College, Campbelltown team. A few nervous moments were had in preparation for this and that was only from the coaching staff. The boys approached the game with a lot of confidence, focusing on moving the big fellas around and playing off the back on quick play-the-balls. An early try and excellent field position saw us dominate the game. While leading 6-0, the game was called off as a result of one of the Loyola players.
A great day of football and a fantastic opportunity for the team to gel. This result means the team now moves into Round 16 of the NSWCCC Cup – we now await the draw.