Open's Rugby League
Open's Rugby League – NRL Schoolboy Trophy
After winning our Central Coast Catholic Schools pool at the College on Wednesday 23 May against St Peters (22-0) and MacKillop (24-0), the team progressed to the Central Coast Final.
On Thursday 31 May the Open's Rugby League team contested the Central Coast Final of the Schoolboy Trophy against Terrigal High School at Ted Doyle Oval, Berkeley Vale.
A strong and cold southerly wind set the tone for difficult playing conditions ahead. The team got off to a flying start, running with the wind and scored in their opening set with some slick ball movement. St Eddies had the run of possession and field position for much of the first half. This combined with smart kicking and good ball control saw the team assert complete control over the first half. Three well constructed team tries and two sideline conversions from Kyle McLean had us leading at the break 16-0.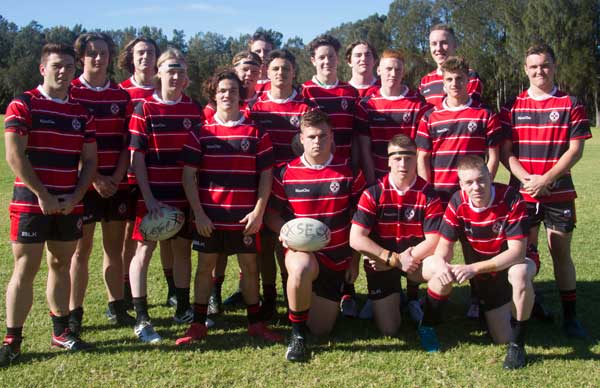 This unfortunately became a game of two distinct halves as the southerly wind made ball handling and field position a real challenge. The team certainly learnt the hard way about the importance of momentum in the game of Rugby League. Full credit to Terrigal as they kept plugging away and scored on what was to be the last play of the game to win the match. We eventually went down 20-16. A tough result for the team but the game certainly showcased the talent here at the College.
Special mention must go to our Open's debutants Declan Hall, Jamen Knighton and Brandon Lehto who played their first game for the team and also Nick Armstrong who came across and played after the Open Rugby Union Gala Day.
The team now focuses its attention on the NSWCCC Cup. Well Done Boys.