NSWCCC Swimming Carnival
After competing at the Broken Bay Secondary Schools Sports Association (BBSSSA) Carnival, students from Year 7 to 12 who were successful in place and race time were selected to represent the Broken Bay Diocese in the next level of swimming, the NSW Combined Catholic Colleges (NSWCCC) Championships  The Championships were held at Homebush Aquatic Centre. This level of competition involves all Catholic secondary schools in NSW.
On Friday 6 April, the St Edward's Swim Team represented Broken Bay in the NSWCCC Championships. The team competed individually for Broken Bay and in the team events for St Edward's College.
All boys performed exceptionally well, with many posting personal bests. Daniel McLoughlin achieved gold, silver and two bronze medals in the 50 m Butterfly, 100 m Butterfly, 50 m Backstroke and 100 m Backstroke. Jacob Curcio won bronze in the 200 m Freestyle. The Junior and Intermediate Relay Teams won gold and silver in the Freestyle Relays, while the Junior Medley Relay Team won gold. This is an outstanding achievement.
This level of competition again highlights the Eddies school spirit amongst the boys. Because of their hard work and teamwork, ten boys from St Edward's College now proceed to the next level: NSW All Schools Competition, Friday 7 May 2018. Good luck to all.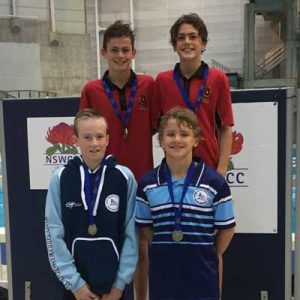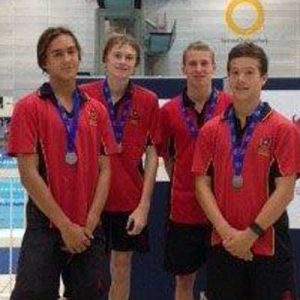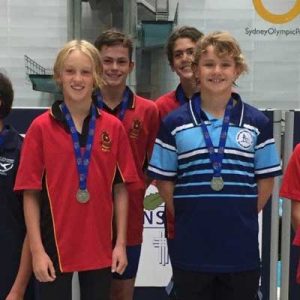 Junior Swimmers
(12, 13, 14 Years)

Toby Armstrong
Nicholas Green
Ryan Green
Aymn Hamilton
Kai Hodson
Nathan Irvine
Daniel McLoughlin

Intermediate Swimmers
(15 and 16 Years)

Jacob Curcio
Riley Marotta
Beau Newlands
Matthieu Williams

Senior Swimmer
(17+ Years)

James Walker