News from the Performing Arts Faculty
It has been a busy and exciting start to 2022 for the Performing Arts Faculty and wonderful to see our students being able to develop their skills and confidence through more and more practical and performance opportunities as COVID restrictions have gradually eased.
Our musicians and technicians from VET Entertainment and Screen and Media have enjoyed playing an integral part in the life of the school  through their valuable contributions to liturgies and events.
Year 7 Music
Year 7 students have been busy learning how to create their own music using the Musescore program. Through learning about note values and pitch they created a rhythm and melody Rondo. Students then moved on to developing their practical skills on the guitar and keyboard which they are thoroughly enjoying.
Year 8 Music
Year 8 students have spent time further developing their practical skills and working as part of a small ensemble. Through this fun and engaging activity they not only develop their technical skills but also learn to work as part of a team and learn about the importance of timing, balance and individual contribution.
Year 9 Music
Year 9 worked on the topic Music for Small Ensembles in Term 1 culminating in an in-class performance to their appreciative peers. There was some amazing talent on display and all the boys are to be congratulated on their efforts developing skills as ensemble performers.  They also tried their hand at arranging a piece of music by developing the harmonic and rhythmic accompaniment. Presently, these boys are busy rehearsing a popular piece of music to perform in Week 8.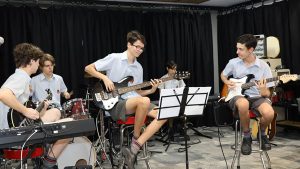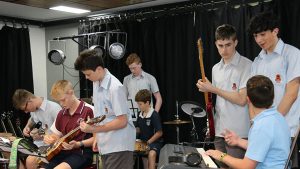 Year 10 Music
The boys started the year with a focus on Classical music, learning not only about the music but the society and culture from which it emerged. This historical perspective allowed for some very engaging and creative Viva Voce tasks where the boys focussed on a composer. This term the pendulum has swung to present day where the boys are learning about Rock music. They are enjoying rehearsing for an upcoming performance task in their small ensembles. Many of these students were also excellent ambassadors for the school and Music faculty by performing for and being mentors to the Year 6 students who attended "A day in the Life"
Year 11 Music
This talented class are engaged performers who are enjoying developing their technical skills and creating an environment where they perform with each other and for each other regularly. Currently they are working on their skills as composers and being challenged by this creative process. Many of these students took the opportunity to perform at the College Open Day and a wonderful ensemble group performed at the Easter Liturgy, Founders Day Liturgy and Year 7 special assemblies. On Tuesday they took part in a zoom seminar delivered by Newcastle TAFE about the many different opportunities and careers in the Music Industry.
Year 12 Music
Year 12 comprises of two music classes who are busy preparing for their performance assessment and a performance evening later this term. These students are talented and passionate about their music, and it has been wonderful for them to be able to rehearse and perform in ensembles once again after a disruptive two years.  In Week 2 Term 2 , these students attended a Music HSC Study Day along with Year 12 musicians from across the Central Coast attending valuable seminars lead by HSC markers.
Many of these students also performed at the College Open Day and the Easter Liturgy and music played an integral part in the recent Year 12 retreat with Mr Beacroft paying a special visit to the music area this week to sing the praises of the Year 12 boys who led their peers in a memorable sing along.
Year 12 Drama
This term the students are embarking on their Group Performance! It's a wonderful element of the Drama course and allows the students an opportunity to create an original work with a group. Many of these students also performed in the Easter Liturgy and their skills were much admired.
Entertainment
The Entertainment students form the backbone of all productions big and small and have had a growing number of opportunities to develop and hone their skills already this Semester. Year 11 students are beginning work placement next term, while Year 12 are busily completing their Certificate III qualifications
Congratulations to the students who are assisting as crew for the upcoming Youth in Performing Arts concerts at Laycock St Theatre.
Screen and Media
Our Screen and Media students have been busy further developing their skills and creativity. They have been filming for a range of school events, as well as creating documentaries, short films and feature news stories for SECTV.  See Andrew Sirio in Year 11's Screen and Media Project below.
Concert Band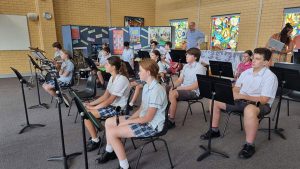 The Eddie's/Joey's Concert Band have started the year with some contrasting repertoire – a medley of 'Three Irish Songs' and 'Seven Nation Army",  showcasing our drummers/percussionists and bass players, as well as the melodic instruments – flutes, clarinets, saxophones, horns, and keyboard. We have welcomed new musicians this year from Year 7 up to Year 11, and the band is sounding great under the skilful musical direction of conductor Dr Phillip Rutherford from Central Coast Conservatorium, who is currently arranging 'Believer' by Imagine Dragons for the band to start learning next. Concert Band is a wonderful opportunity for our musicians to join with Joey's once a week to make music – and the band are looking forward to an opportunity to perform for an audience!
Events and Performances
On Friday as part of Careers week, we look forward to welcoming Michael Dolce one of Australia's leading session guitarists with his "Behind the Scenes" presentation in the Theatre.
We are also pleased to announce the return of the face-to-face Individual Music Tuition program with Coast Academy of Music who resumed their tuition at the College today.
As mentioned earlier, our students have enjoyed the opportunity to play for a wider audience this Semester and the school community has enjoyed their contribution to events and liturgies. We thank the boys for their performances including:
Open Day: Where the Music area came alive on a Saturday replicating the experience of a rehearsal, with music emanating from all 6 practise rooms and classrooms. Families visiting were delighted to see and hear the varied genres being performed. The Entertainment students also put on an engaging light show in the theatre to showcase our incredible facilities.
Easter Liturgy: Where it was wonderful to see our musicians and performers contribute to the celebration of the Easter Liturgy to finish off Term 1.
Edmund Rice Liturgy: We started this term with this important liturgy and some of our very talented Year 11 musicians performed Hey Brother, The College Song, Edmund Rice Hymn and some beautiful solo instrumentals during communion.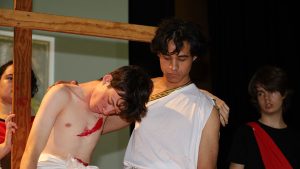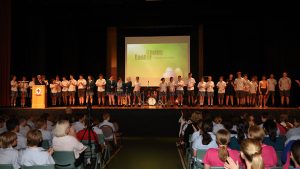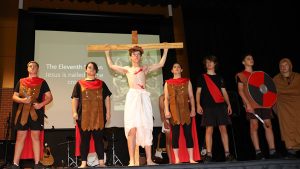 Mother's Day and Day in the Life Performances
We continue to look forward to many more opportunities for the boys to perform for each other and the wider community throughout the year. developing their skills and confidence through hands on experience and feeling encouraged to play more and more music.
Finally, a big congratulations to the following students on their performances at this week's YIPA series of concerts held at Laycock St Theatre: James Nilsson, Sasha Byrne, Charlie Jacobson,  Daniel Herd, Lachlan Herd  and Cooper Herd.