News from the HSIE Faculty
Year 12 Geography
Year 12 Geography students are speaking with a range of stakeholders of Long Jetty to investigate urban changes in the suburb. The stakeholders include a real estate agent, a wealth and financial consultant and a small business owner. They will need to report on their findings in a formal report as well as reflect on the fieldwork data they were able to collect.
Furthermore, early next term, the same class will be heading to Tamburlaine Organic Winery in the Hunter Valley to learn about the cultivation and production of wine.
Year 12 Ancient and Modern History
In late June, the Year 12 Ancient and Modern History classes are heading to Sydney University to attend a series of HSC lectures in preparation for their Trial HSC and HSC examination. They will be joining students from across NSW in a range of impactful presentations.
Year 8 History
Year 8 are putting the final touches on their Black Death posters. In a creative display, the students were tasked with creating posters to warn 14th century Europeans (many not literate) of how to avoid and treat the Black Death.
Australian History Competition
On Monday of Week 6, students from Years 7-10 put their historical and critical thinking skills to the test by completing the Australian History Competition. A multiple-choice based exam, this competition tested students on their ability to think like a historian, interpret various historical sources and investigate different past events.
All students showed great enthusiasm towards the study of history and they are to be commended for commitment to extra-curricula academic opportunities at the College.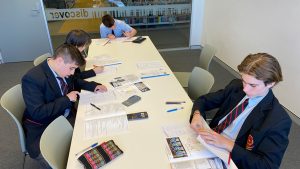 The students involved were:
Cormac Brady (Year 7)
Tristan Maitland-Pearce (Year 8)
Maxi Corrigan (Year 9)
Joshua Hawkins (Year 9)
Marco Sgaravizzi (Year 10)
All students will receive a special certificate from the College in recognition of their participation. We are eagerly awaiting their results!
Upcoming History Challenge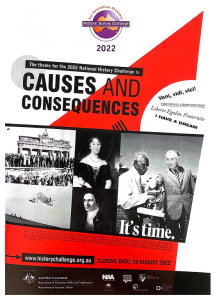 Mr Rozario will also be running the National History Challenge. The National History Challenge is a free research-based competition for Australian students. It gives students a chance to be historians, researching world history, examining Australia's past, investigating their community or exploring their own roots. It emphasises and rewards quality research, the use of community resources and effective presentation. The theme for 2022 is 'Causes and Consequences'. If you are interested in completing this, please contact Mr Rozario in the HSIE faculty. For more information on the challenge, visit the following link – https://historychallenge.org.au/
Year 11 Certificate III in Financial Services
Mrs Robinson's Year 11 Financial Services class attended a field trip to Ourimbah TAFE to participate in a Barista course. The purpose of the course was to learn how to make hot and cold beverages for our Crème & Bean Café. The café is part of our Simulated Work placement for Certificate III in Financial Services, our time will be spent learning about running a small business, processing financial applications and creating reports along with being at the forefront of customer service and practising effective communication skills.
Just a little bit about our course for some that may be interested when choosing subjects for Year 11, Certificate III in Financial Services is a VET course; however, it is HSC accredited too. Some students have decided to use this course as a pathway to University, TAFE or employment in the financial field ie: accounting, banking or running their own finances in their preferred trade. Being involved in the café prepares students for the workforce, practising employability skills such as communication, teamwork, self-management along with financial skills including as costing, bookkeeping and accounting. Come on down and support the boys of Eddies! Grab a coffee (for teachers and seniors only) or hot chocolate and a cookie. We are located outside the ERC between 7.50 am and 8.30 am on Tuesday, Wednesday and Thursday each week.