News from the Environment Portfolio
Movember
The Environment Portfolio are running the Movember campaign again this year and are asking students, staff and the community to join or support the Eddies Team – whatever Mo you Grow OR Move for Mental Health, this Movember, you will help to raise funds and awareness for men's health.
You need to Register under the Movember St Edward's Team page – see poster below for link or QR Code
Start clean shaven and Grow that Mo (note if any student has not joined the team then their Mo will have to go)
Raise a minimum of $20 for Waterford Hours
Or you can choose to Move for Movember – see website for further details or have a chat with any of the Environment Portfolio leaders – Cohen Crook, David Lusunzi, Leon Towle or Hugh Wilson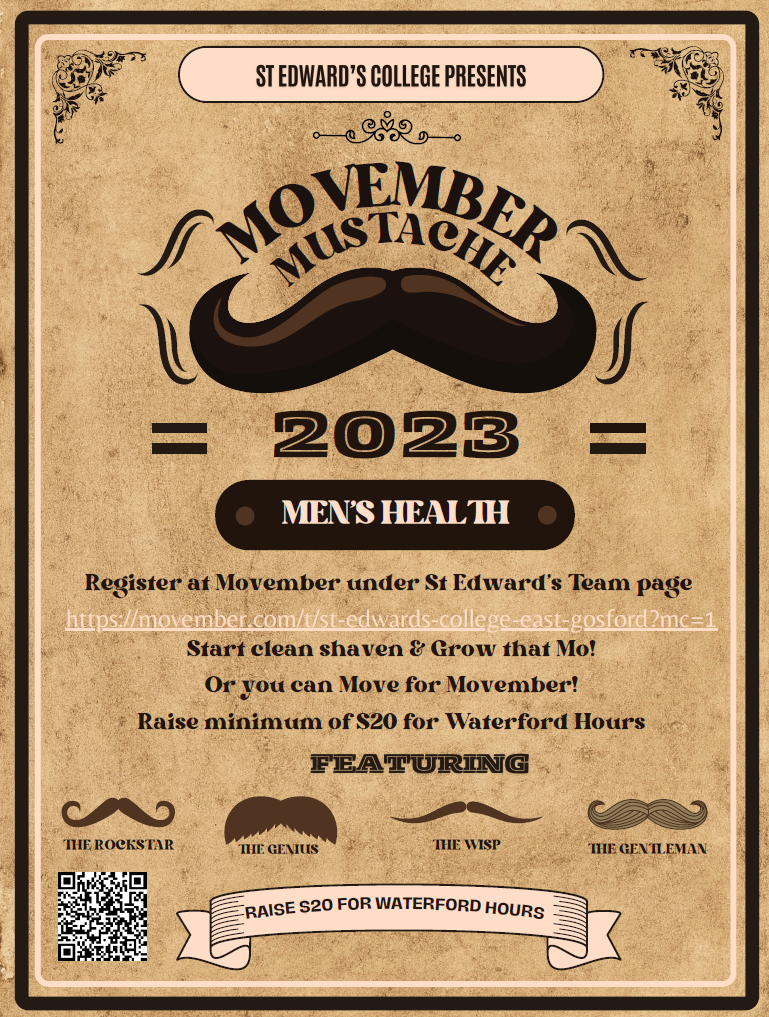 Flip the Switch
Climate change is real, and most would have experienced the effects either through the local fires or floods. People may notice plants flowering before they should or fish arriving before they are supposed to because the ocean currents have changed. Cane toads are spreading further south as conditions heat up and Alpine areas are disappearing and will soon be non-existent in Australia as the last ecosystems cling to the highest peaks in Australia for survival.
This term the Environment Portfolio has led its first ever initiative focusing on reducing carbon emissions. The idea was started nearly two years ago and is finally being implemented. Students at  assembly this week will introduce a 'Flip the Switch' initiative where students and teachers will be encouraged to turn off the lights when they leave the room. Whilst this is only a start it gets people to think about their actions and about how big change comes when a lot of people do small things. Hopefully, this initiative will also get students to flip the switch at home as well and encourage other family members to do the same.
Sometimes students can get overwhelmed with the idea that the 'problem is too big' and there is 'nothing I can do'. This initiative encourages students to take that first step on a long journey to change. Well done to all the prefects both past and present who have helped to make this a reality, the executive for supporting the students on their journey and to Sarah Evans for her work creating the posters.