News from the Drama and Entertainment Department
Year 9 Drama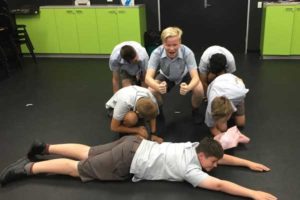 Another batch of fresh Drama students have entered the department, keen to improvise and entertain! Year 9 have started the year looking at Improvisation and Comedy. This is the only subject in the school where you can be awarded marks for being a clown! A favourite topic has been slapstick, where students have been practising chair gags, trips, slips and falls.
Year 10 Drama
Students in Year 10, began the year with the challenging task of performing a monologue. This required the students to not only fine tune their acting skills but to also think like a director, to design a performance that included costumes, props, set and lighting. This task also taught skills in time management and the importance of preparation. All boys are to be congratulated on accepting the challenge and performing in front of their peers, solo! This term's work moves away from the stage and focuses on film. Students have been enjoying the freedom of creating their own production company and film. I look forward to the film festival in Week 10!
A huge thank you to the Year 10 Drama students who performed the Stations of the Cross at this year's Easter Liturgy with St Joseph's: Josh Collis, Josh Gower, Declan Burfitt-Johnstone, Kane Woods, Lachlan McIntosh, Jasper Langford-Martin, Max Whitton and Andrew Prazauskas.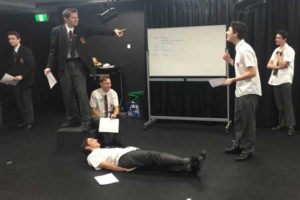 Year 11 Drama
Year 11 were given the task of creating a performance piece for a Year 7 and 8 audience around the theme of Easter. The students wrote, directed and performed a successful piece that focused on the importance of forgiveness. Congratulations to Year 11! This term, our work is all about theatrical traditions and performance styles other than Realism, with a particular focus on Melodrama and Epic Theatre.
Year 11 Entertainment
Year 11 Entertainment are in the midst of a unit of work on Audio and are currently producing live radio programs that demonstrate their knowledge on audio systems. As well as this, a group of Year 11 and 12 Entertainment students completed their First Aid Certificates, bringing them closer to completion of a Certificate III in Live Production. Well done boys!
Year 12 Drama
As we head closer to the Trial HSC exams, Year 12 Drama are working diligently on their Group Project performances. The Group Project is an opportunity for students to work together to create a unique piece of theatre that is 8-12 minutes long. The Group Performance demonstrates a student's ability to work successfully as part of a team, their flair and originality, their performance skills and their intimate understanding of narrative structure. The boys are looking forward to showcasing their progress at Year 12 Drama Night at the end of this term.
Year 12 Entertainment
Last week, the Year 12 Entertainment class completed an important assessment task which required them to create and run a simulated live performance. This assessment task is the culmination of almost two years of study and allows the boys to showcase the skills they have built throughout the VET Entertainment course. The boys were responsible for acting, staging, lighting, audio and vision for the production. All students demonstrated excellent knowledge of the Entertainment industry and completed the task with maturity and aplomb. They are now working towards revision for their Trial and HSC exams.
Drama Club
Drama Club is on each Monday at lunch for any student in Year 7 or 8 that has an interest in Drama. This is a joint club with students from St Joseph's College. All Welcome!
Click Here to view the full gallery

32 Images