New Year 8 Library Reading Program
This term, Ms Moulton and Ms Moon, our two Teacher-Librarians, are trialling a new reading program with two Year 8 classes.
The aim is to continue to build and foster a love of reading in students from Year 8 ultimately moving through to the HSC years. After Year 7, Ms Moulton and Ms Moon have noticed reading and borrowing rates at the library decline and it is hoped that this program will re-invigorate an interest in reading, leading to benefits in the long-term for English and all other subjects.
Research shows that regular reading improves brain connectivity, increases vocabulary and comprehension, empowers people to empathize with others, reduces stress, lowers blood pressure and heart rate, as well as fighting depression symptoms. Ms Moulton and Ms Moon have designed an innovative and engaging program keeping the students at the core of the learning. This term, Mrs Titheradge's and Ms Atayde's class are participating in the trial allowing the teachers the opportunity to balance and refine the program which will be rolled out to all Year 8 classes next year and then run out to other year groups.
On Wednesday week one, Mrs Titheradge's Year 8 English class were the first lucky students to take part in the new program. Students are reading the novel 'Holes' by Louis Sachar. Many students have either read the novel or seen the movie before, which is a huge benefit. This allows students to extend and consolidate their pre-existing knowledge and build their comprehension of narrative structure and enjoy the process of reading for pleasure. The focus was on plot, characterisation, setting and style. After reading and discussing the first 6 chapters of the novel, students were able to view the first 10 minutes of the film and draw comparisons between the two. It was noticed that the film stayed quite true to the narrative and the boys were eager to contribute to a discussion of how similar the two were.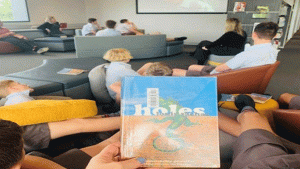 The class were supported throughout the lesson by Ms Moulton, Ms Moon, Mrs Titheradge and Mr Bonello. It was an enjoyable and relaxed way to start the day and boys are looking forward to their fortnightly reading lessons for the rest of this term.