Mrs Titheradge Meets Acclaimed Australian Author
Mrs Titheradge meets acclaimed Australian author, Jane Harper.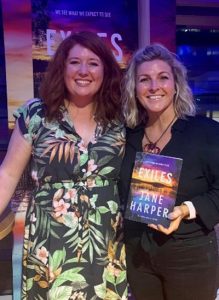 On Friday 7 October, during the school holidays, Mrs Titheradge had the opportunity to attend an author talk with Jane Harper as part of her own Professional Learning. Jane Harper is the author of bestsellers The Dry, Force of Nature, The Lost Man, The Survivors, Jane released Australian and New Zealand tour dates to coincide with the recent launch of her fifth novel, Exiles. Exiles is the final novel to feature detective Aaron Falk, the main character in The Dry and Force of Nature.
Jane appeared at bookstores and venues to discuss her books, particularly Exiles, with readers. Jane is the winner of various awards including the 2015 Victorian Premier's Literary Award for an Unpublished Manuscript, the 2017 Indie Award Book of the Year, the 2017 Australian Book Industry Awards Book of the Year Award and the CWA Gold Dagger Award for the best crime novel of 2017. Rights have been sold in 27 territories worldwide, and film rights optioned to Reese Witherspoon and Bruna Papandrea. Jane worked as a print journalist for thirteen years both in Australia and the UK and lives in Melbourne
Mrs Titheradge attended 'In Conversation with Jane Harper' at PHIVE, Parramatta's new community, cultural and civic hub, located in the heart of Parramatta's CBD which opened recently on 23 September. The talk was hosted by Parramatta City Libraries and ran for approximately one hour. Throughout the talk, Jane discussed her writing process, her inspiration for her writing and how she came to publish her debut novel, The Dry in 2016. In an intimate gathering of around 100 people, the talk also allowed for audience questions and Mrs Titheradge was able to ask some questions around structuring of narrative writing to learn tips and tricks to bring back to her classes to assist them with their own creative writing, particularly HSC students who are now required to study the module Craft of Writing in the Higher School Certificate.
After the talk concluded, Jane spent time chatting with the audience and signing copies of her novel. Mrs Titheradge was lucky enough to get her entire collection signed and even managed to grab a photo with the lady herself. The evening was an amazing opportunity for Mrs Titheradge to meet and spend time with one of Australia's most successful and prominent Crime Fiction writers in recent years.