Latest News From the PDHPE Faculty
Fortnightly Progress Surveys
Each fortnight, every PDHPE, PASS, SLR and Sports Coaching class is required to complete an online quiz in their Canvas course. The PDHPE staff are monitoring the workload, physical activity, sedentary lifestyle and general wellbeing of all students during the COVID-19 lockdown and beyond. The statistics are proving to be interesting and they allow us to provide extra support for specific students by explaining the work in more detail or by referring them to the Diverse Learning team or College Counsellors for further help.
These results from one class were typical across most year groups for Term 2, Week 2: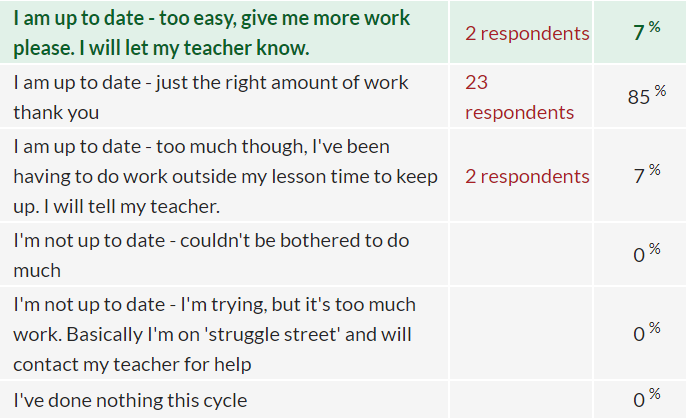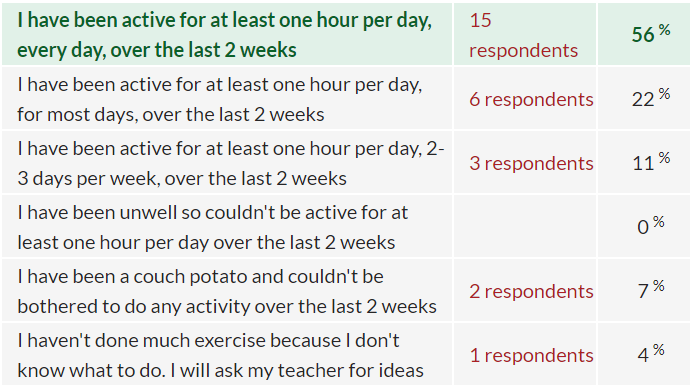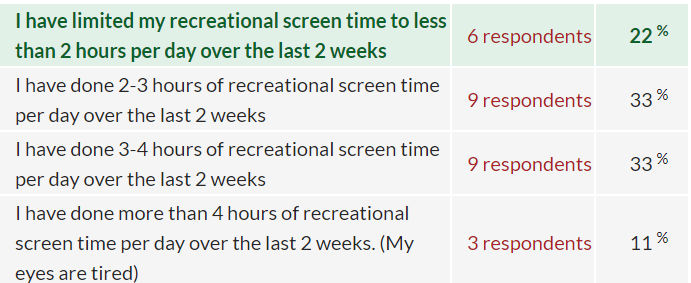 Virtual Classrooms at home
Year 7 finished up Term 1 with some suggestions for young people experiencing change.  They are now exploring how 'healthy' they are. Year 8 learned new skills and rules for European Handball while Year 9 PDHPE immersed themselves in media marketing techniques. Year 10 PDHPE got to put their 'My Body, My Temple' theory into practise. Year 9PASS looked at Australia's sporting identity while Year 10 PASS explored the systems of the body that work together to produce movement. Year 11 and 12 PDHPE have worked well during lockdown while the Sports Coaching and SLR students faced some COVID-19 obstacles with their practical 'hands on' course.
Online 'Prac' Lessons
Each week the PDHPE staff have been taking it in turns to develop an individual exercise program for the students to do in lieu of their class physical activities. Some serious, some not so serious! A number of boys have given feedback that they have been using these workouts regularly in lockdown.
Examples:
PDHPE Staff Exercise Video – Just for Fun!