Intermediate Basketball
The 2023 Intermediate Basketball Team travelled to the Terrigal basketball stadium where they performed exceptionally well against some strong opposition.
Seven straight wins would see the Team claim the title of BBSSSA Champions for 2023. Fine performances in the pool stage against St Peter's Catholic College and St Leo's Catholic College laid the foundations for a very successful day. Cruz McMahon and Brooklyn Roberts were exceptional at both ends of the floor, while Mackay Jackson and Neo Thompson contributed to the majority of the scoring.
The boys won tough opening contests against MacKillop Catholic College and St Paul's Catholic College and then went on to defeat Mater Maria Catholic College in a fiery battle. A comfortable win against St Brigid's Catholic College saw them reach the final against St Leo's to secure a place in the final. Cruiz McMahon's exceptional 3 point shooting was the difference in the first half as the team led by 10 at the break. Brooklyn Roberts rebounded the ball at both ends of the floor to ensure the team was never headed. Despite a late run by our opponents the boys lifted and the score got away from the opposition. Next stop, the CCC tournament in Term 4.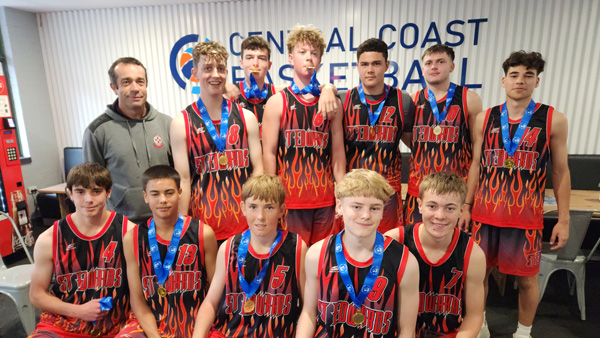 BBSSSA Intermediate Basketball Results:
St Edward's v MacKillop – Win 30-12
St Edward's v St Leo's – Win 21-14
St Edward's v St Paul's – Win 29-17
St Edward's v Mater Maria – Win 34-15
St Edward's v St Brigid's – Win 40-14
St Edward's v St Peters – Win 31-15
Final St Edward's v St Leo's – Win 31-17
Team:
Kaine Hieber, Liam Hore, Mackay Jackson, Max James, Cruz McMahon, Harvey Olson, Hamish O'Malley, Levi Papps, Brooklyn Roberts, Kylan Sumner-Gould,  Neo Thompson, Brooklyn Roberts