Installation of Most Rev Anthony Randazzo as Bishop of Broken Bay
On Monday November 4 the Diocese of Broken Bay officially welcomed their new shepherd, Bishop Anthony Randazzo as the fourth Bishop of Broken Bay, in a beautiful Liturgical Reception and Solemn Mass of Installation at The Christ of Light Centre, Waitara.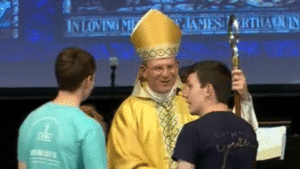 The evening was attended by close to 1200 people, 27 Bishops and 120 priests and deacons. As part of the Rite of Installation the Apostolic Nuncio, His Excellency Archbishop Adolfo Tito Ylana, read out the Papal Bull in Latin and then in English. A Papal Bull is a type of public decree issued by the Pope that in this case proclaims Most Rev Anthony Randazzo as the new Bishop of Broken Bay.
The evening was a wonderful, joyful celebration of our Catholic faith, witnessed by young and old. St Edward's was very blessed to have Lachlan Smith of Year 12 chosen to be part of the official procession in the ceremony that introduced the Bishop.
The St Edward's community welcomes Bishop Randazzo as our new Bishop in Broken Bay and looks forward to our faith journey together.