Futsal
Green Team
On Wednesday 21 June,  the St Edward's Futsal Green Team competed against other highly skilled futsal schools to try and win the Futsal competition at Niagara Park. We tried our very best, competing against more experienced teams every game. At one stage we had a penalty shootout to see who would make third place because we were tied for second place. The amount of pressure we all felt as each team stood around to watch the shootout was nerve wracking. Sadly, we lost in the penalty shootout. We were undefeated up until then, winning each game by at least 3-4 goals! We sadly lost in the semi finals against Central Coast Grammar School, but achieved a 3rd place victory on the final table. This high paced game kept us on our toes the entire time. Overall, it was a fun experience and we all enjoyed it.
Written by  Beau Louie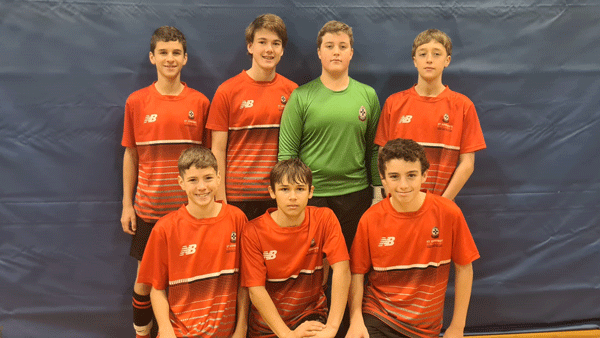 Blue Team
I was chosen to represent St Edward's College for the Central Coast Region Futsal Championships. This was a day where you got a free day off school to play futsal with your friends and have an awesome time competing against other schools.
Throughout the day we played eight games in total, five of them which were pool games and St Edward's went undefeated and did not concede a single goal throughout all 5 pool games. This put us in first place on the ladder and a guaranteed spot in the quarter-finals.
Our first 2 matches were against Ku-Ring-Gai High School and Central Coast Sports College Y Team which we comfortably won 7-0 in both games. Our third match was against Brisbane Waters High School and was a lot tougher, however we came out ahead winning 1-0 with a cheeky back heel finish by me. Our fourth match was against Central Coast Sports College O Team and we won 2-0
In the quarter-finals we versed a strong Central Coast Sports College B Team and could not be separated by full time so we drew 1-1, which forced it to go into golden goal and we scored the winner which took us to the semi-final.
In the semi-final, we versed an even stronger Central Coast Sports College team and neither team could find the back of the net before full-time. So we went into golden goal again and we scored the winner to take the advance into the grand final.
The grand final was by far the strongest team we are going to play all tournament because they also went undefeated throughout the tournament which was Central Coast Sports College V Team. We went into the game knowing that they were going to be a very strong team,  we played our hardest but were very unfortunate to lose the game 5-0. On a positive note, we still get to go to the state championships and have another shot at winning.
My overall experience for this fun day was pretty good because I still got a chance to have a great time with my mates and play some futsal against other schools.
Written by Krishay Jamnadas